How to Get Driving Directions with Google Maps

Google Maps is a free, full-featured mapping utility that runs right from within your Internet browser. You don't have to download anything, log in, or even create an account to use this powerful mapping application.
Among its more prominent features, Google Maps has a driving directions feature that you can use to find a good driving route to and from just about any two locations. In addition, with one click of the mouse, you can switch the "to" and "from" fields to get reverse driving directions so you can get home. Read on to learn all about the driving directions feature of Google Maps.
Using Google Maps to Get Driving Directions
To start using Google Maps to get driving directions, go to the Google Maps website and click on Get Directions in the upper left corner of the screen. This will open up the driving directions feature on Google Map.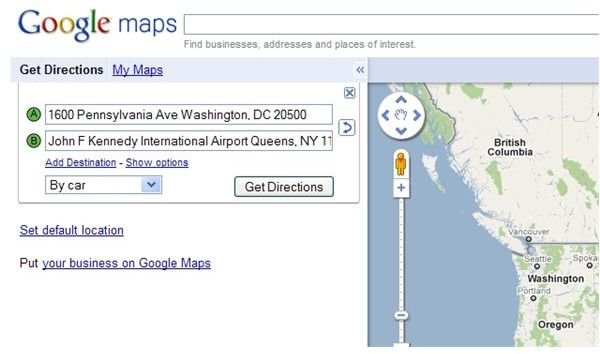 You will notice that there are two input boxes labeled A and B. In the box labeled A, input your start destination using the following format:
Address, City, State, Zip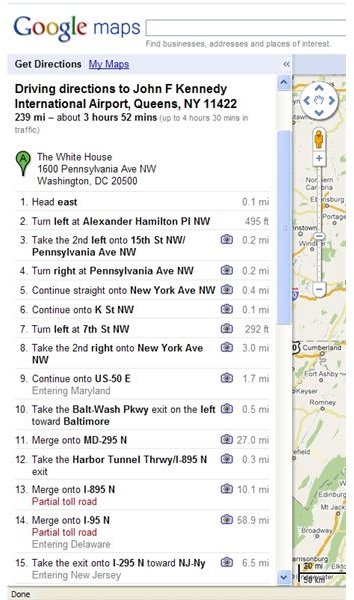 This is the fastest way for Google Maps to know from where you want to start your driving directions. Next, use the box labeled B to input your destination. Use the same format above. Notice that you have the option to indicate whether you want to get directions for a car, for public transportation, or for walking. For our purposes here, leave the default option "by car." When finished click the Get Directions button.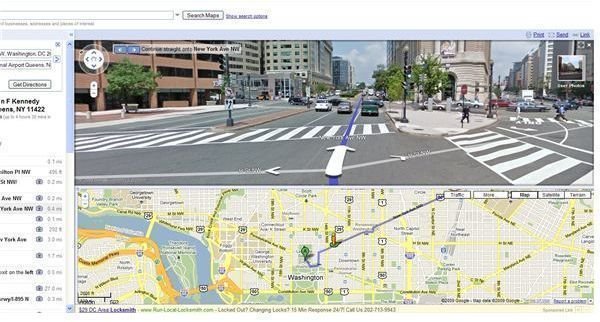 Immediately, Google Maps calculates the driving directions you requested and displays some other very useful information. First, notice that every leg of the journey is spelled out step by step. You are told whenever you need to change roads and Google Maps even indicates the mileage in between each road change.
Second, you can click the picture of the camera next to each direction and instantly see a zoomed in part of the map highlighting that particular part of the journey. This feature also shows you a street view in case you are unfamiliar with the area in question.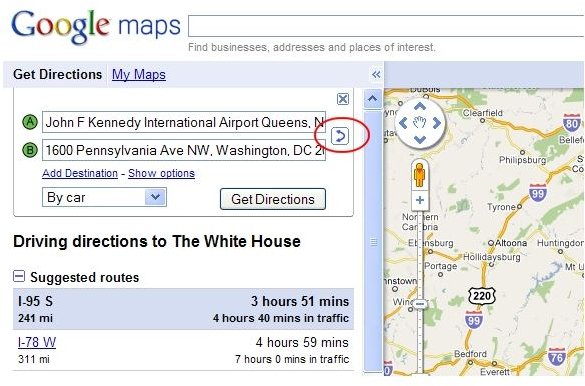 One useful feature of getting driving directions from Google maps is the option to switch the starting point and destination. This way you can calculate both the outbound trip and the trip back to the original location. To swap the starting point and destination, click the double arrow next to the A and B boxes. This instantly swaps the A and B boxes and gives you the route to use for the return trip.
While using the driving directions feature, you still have the full range of options available to you in Google Maps. For example, you can zoom in and out with the wheel of your mouse, switch among Map, Satellite, and Terrain View, and print, send, and link the map so you can share it with others.
Conclusion
Google Maps offers a driving directions feature that allows you to instantly calculate the route to and from just about any two locations. One impressive feature is the ability to swap the starting point and destination locations so that you can also find out how to get home. As with other Google Map features, you can switch among the various views and zoom in and out so that you can get a detailed picture of exactly which roads you will be taking and what they will look like when you get there.
This post is part of the series: Satellite View, Driving Directions, and Sightseeing with Google Maps
The first article in this series discusses how to use the aerial satellite view in Google Maps. The second article explores how to use Google Maps to get driving directions. The third article discusses sightseeing with Google Maps.