How to Download Your Gmail Messages to an Email Client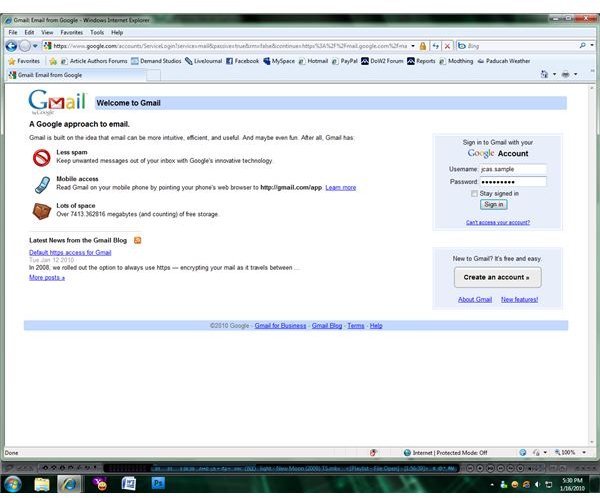 Messages and attachments sent to a Gmail account are stored on one of Google's Gmail servers, allowing account owners to access their email from any computer with internet access that can connect to the Gmail website. Unfortunately, this means that users aren't able to view these emails and attachments without connecting to the internet. This is a problem that can be easily fixed, however.
Gmail allows users to set up their accounts to forward messages via POP3 access. This means that a software client such as Outlook Express or Thunderbird can be used to download the emails and attachments in a user's account to their home computer for backup or offline access. Setting up a Gmail account to allow access to your messages and attachments will only take a few moments, and configuring a POP3 client to access your account won't take much longer.
Setting Up Gmail for Downloading
Setting up a Gmail account for downloading via POP3 access is easy. The first thing that you need to do is to log in to your Gmail account as you normally would using your email address and password.
Once you have successfully logged in, click on the gear icon located on the top right, and then on "Settings". You will be presented with a number of tabbed pages where you can configure your account; click on the "Forwarding and POP/IMAP" tab in order to access your account's forwarding and POP3 options.
Click on the "Enable POP for all mail" option, and then click the "Save Changes" button to enable the setting. Your Gmail account is now set up for forwarding via POP3 access. All that's left is for you to configure your POP3 client and begin downloading your messages.
Setting Up a POP3 Client
The next step is to set up your POP3 client to download the messages. Open your preferred email client and access the account settings page where you can add new email accounts. Click the "Add…" or "New…" button, then enter the account information for your Gmail account. You will need to enter your display name, email address, and will likely have to enter your password twice to confirm that it is typed correctly. The POP3 client will connect to your Gmail account, sending a message through to confirm that it has connected correctly before it begins downloading any messages. Once the connection is confirmed the client will begin downloading your messages and attachments automatically.