10 Premium Free Blogger Layouts and Templates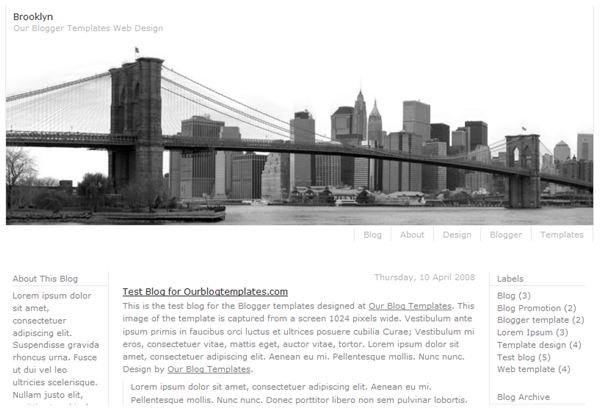 Blogspot Templates
The default layouts that Blogger gives you aren't the best, and the selection is quite limited. Luckily, there are several, free blogger layouts out there to choose from. Check out the list below, and see if any of the layouts would work good for your blog.
Brooklyn Template
Brooklyn is a free premium Blogger layout, created by Our Blogger Templates. It features a 3 column body and a 3 column footer. It comes as a minimalist black and white theme. However, it is easily customizable from the Blogger Layout section. Easily add your own custom header to this theme by using any standard 800px image.
Absynthe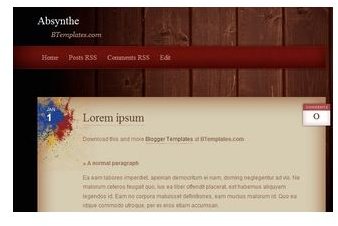 Another free Blogger layout. Coded and designed by Chris Wallace, Ashul. Absynthe is a single column theme with a right-sidebar. It was originally a WordPress theme, switched to Blogger. Features include grunge antique layout, full-width, and wood background.
Kids Style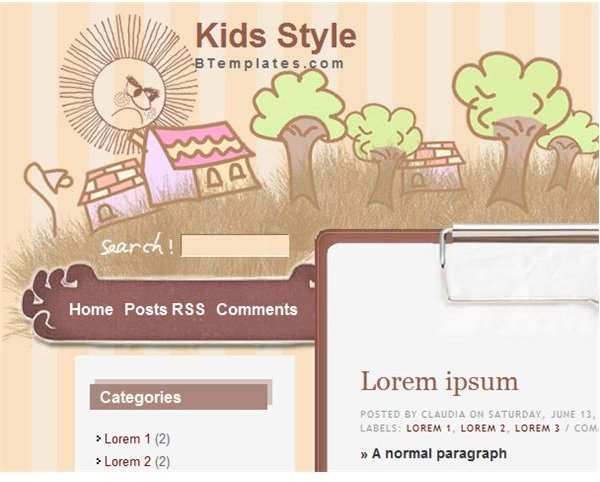 A Blogger template that would work great for a parenting blog, children's book blog, or teacher's blog. Single column layout with left-sidebar. Main column has a clipboard background. Cool design. Created by Deluxe Templates.
Craftwork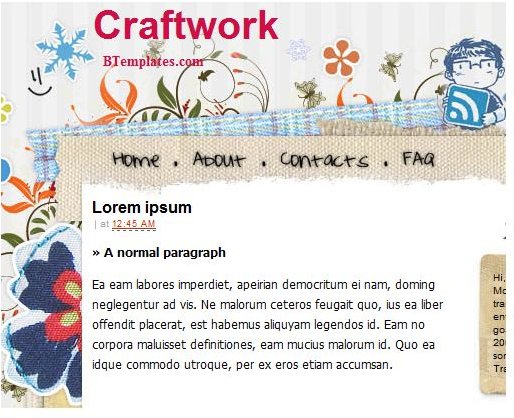 Craftwork is a Blogger layout with a great design. It features several images of craft materials, spread out to give a blog layout look. Craftwork is a narrow, 2 column theme. Coded by Blogger FAQs and designed by EZ WPthemes.
Water Color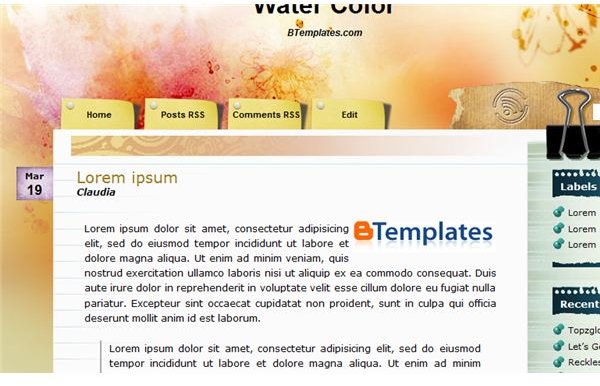 An artistic theme with a background reminiscent to a water color painting. Post dates are displayed as tabs on the left-hand side of the layout. The center column has a notebook style background. Water Color is a 2 column theme with one main column and a right sidebar. Integrated RSS button and search box.
Creative Art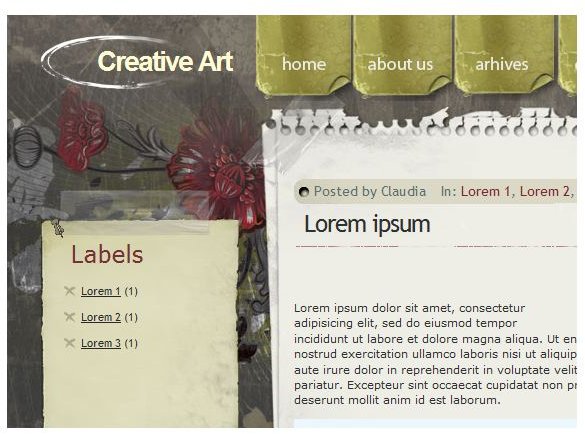 The perfect Blogger layout for an artist. Creative Art theme has a dark floral background with a grunge gradient. 2 columns overall, main column and sidebar. The main column has a notebook styled background. Large navigation tabs, located at the very top of the layout.
Selancar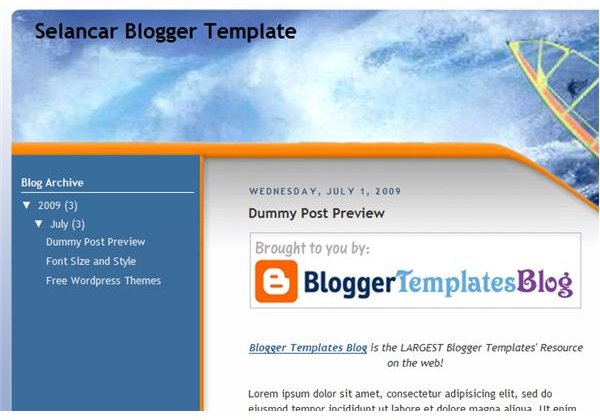 Selancar is a unique Blogger layout that would work great for a business/services blog. The header is angled down toward the right side of the template. 3 column layout with left sidebar, posts column, right sidebar. Distributed by Blogger Templates.
Coffee Cup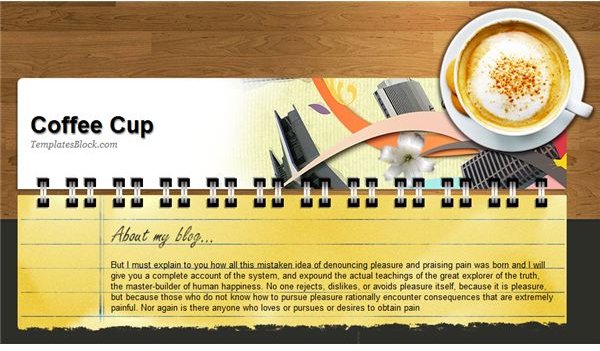 Coffee cup is a modern desk looking theme that would work great for as a resume typed informal blog. The header of this theme is unique in that it has a title place holder and a spot where you can writer a brief message. The layout is 2 column, post column and right sidebar. It also features a wood grain top background and a dark gray lower background.
Artistic Sky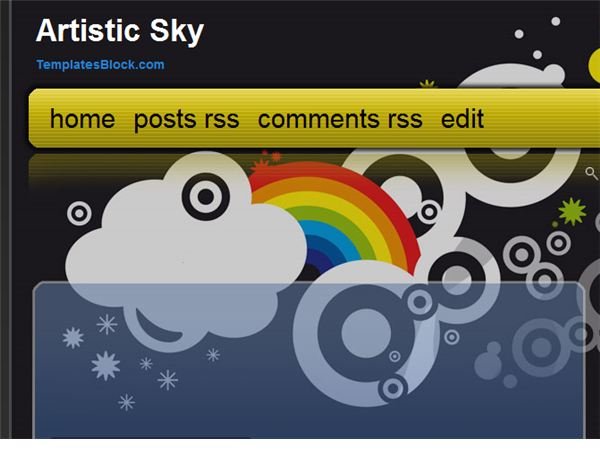 Artistic Sky is a very colorful and free Blogger layout with an abstract art background. 2 column, post column, and right sidebar layout. The post column is a cool blue color with a transparent layer. Fixed with Artistic Sky theme by Templates Block.
Silver Line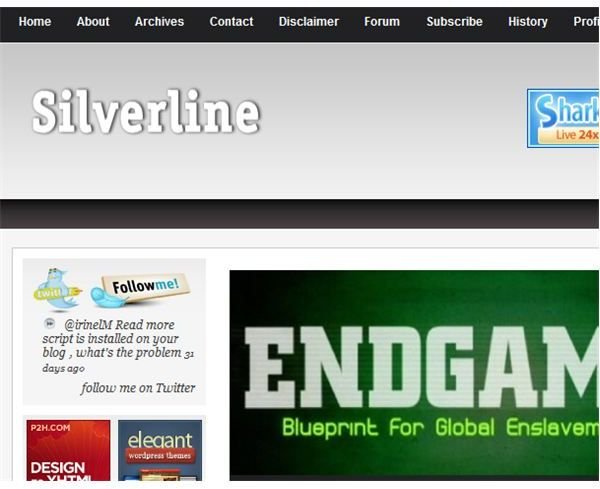 Silver Line is a magazine style Blogger template. The header is full width, and the rest of the layout is fixed width. 3 column theme with left sidebar, posts column, and right sidebar. The footer features 3 distinct sections to add links and banners. Navigation bar is located at the top of the template. Silverline is one of the most full-featured themes on the list.