What is Google Analytics?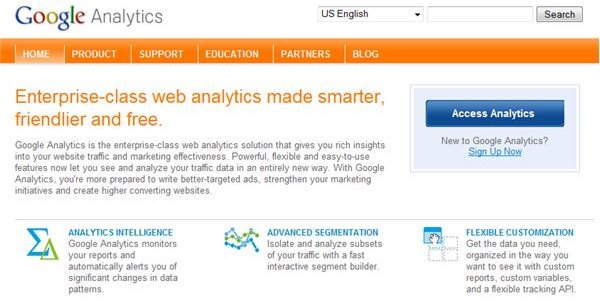 Definition of Google Analytics
What is Google Analytics? Basically, it is a free Google service that helps webmasters better understand the traffic that comes to their websites. By utilizing the data that Google Analytics puts out, webmasters can easily make adjustments to their website to get more visitors and improve customer conversion.
The official definition of the Google Analytics, by Google is:
Google Analytics is the next generation web analytics tool from Google that shows you how people find your site, how they navigate through it, and how they become customers. In much the same way that the Google search engine has made it easy to use powerful search technology, Google Analytics brings a new accessibility to enterprise class web analytics, making it possible for all advertisers, publishers, and website owners to improve their website results.
Tour of Google Analytics - Overall Traffic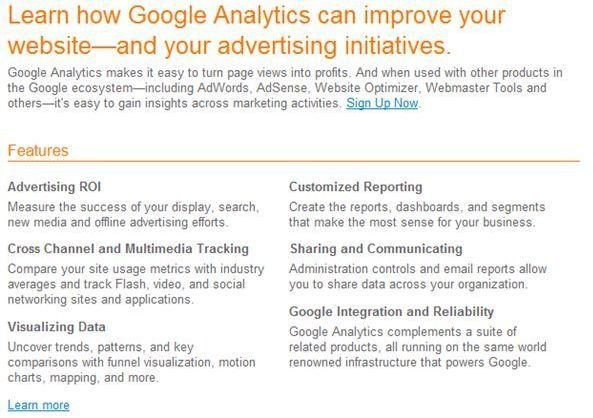 Google Analytics allows you to monitor overall site visits within certain time periods. For example, you can view a yearly graph, showing month to month changes, a monthly graph, showing day to day changes, etc… It also shows you detailed information on what a visitor does once he enters your site. You can find out how long a visitor stays on your site, how many pages they navigate through on your site, and whether they are a new visitor or returning visitor.
Tour of Google Analytics - Adwords
Like all other Google services, Analytics is intertwined with Google to allow easy compatibility between different Google services. This makes it the ideal monitoring tool for Google services, such as Adwords. With Analytics, you can track your Adwords performance and filter it into specific paths. For example, you can view information like: number of times search ad was displayed, how many clicks it received, cost of clicks, conversion rate, and revenue per click. If you run an eCommerce website, you can even track sales using Google Analytics, and compare it with your Adwords. This comparison will tell you how much Adwords helped sales for your company, and what specific keywords brought the most sales.
Tour of Google Analytics - Regional Information
Google Analytics also has the power to monitor demographics about your site's visitors. Visitor info is displayed on a heat map, in which you can click different levels to view data samples. Different levels that you can sort by are: continent, country, state, and city. With this information, you can make adjustments to your overall marketing campaign and target places where your businesses products or services are most valuable.
Tour of Google Analytics - Advanced User Data
Analytics can bring you very detailed trend information about your visitors through level filtering. For example, if you run an eCommerce website, you can see the percentage of visitors who visit your site. From there, you can see the percentage of those customers who create an account with your website. From there, you can see which percentage of those customers actually purchase an item from your site, and so on. Analytics will also show you the number of customers who decide not to proceed to the next level, allowing you to make changes to improve your overall customer conversion rate.
Conclusion
What is Google Analytics? Really, that is not even half of it.The above information is just a simple overview of Google Analytics. You can do much more that what is described in this article. In fact, Google Analytics is so packed with customization and features, chances are you will not even use half of the Google Analytics options. The strongest pro of Google Analytics is that it is completely free to use. There are many services out there that charge for similar services. Because Analytics is a Google service, you also have the security of knowing that it is about as accurate as it gets… at least with Google search engine statistics.
It's hard to explain everything that Google Analytics offers in words. Why not try it for yourself? It's completely free. You can get started here.
If you are having trouble using Analytics, you can check out the Bright Hub tutorial here.