The Top 5 Alternatives to Google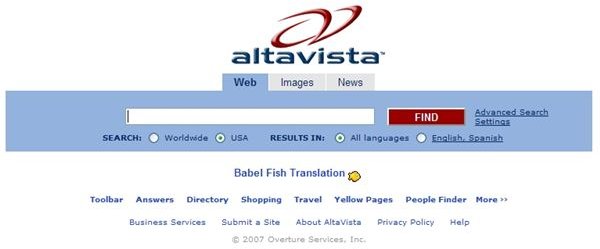 Top Google Search Alternatives
Among a variety of search engines available on the web, Google's 73% market share by volume of searches clearly positions it as the 800-pound gorilla in the search engine market. In fact, Google is such a popular search engine that millions of Internet users have Google as their default web page whenever they launch their favorite browser.
The term "googled" entered contemporary language to refer to doing a search, any search, on the web (as in, "I googled that information today"). Except for the search engines that command a significantly smaller portion of the market such as Yahoo (15%), Bing (9%), Ask.com (3%) and AOLSearch (1%), many Internet users are unaware that there are plenty of alternative search engines that are powered by the top search engines such as Google and Yahoo. This article discusses these search engines in a Search Engine Showdown of the best Alternative Search Engines to Google.
#1 – AltaVista Search Engine
The AltaVista search engine sports a clean, efficient interface that somewhat mimics the less-is-more approach to the search engine design of Google. Some critique the Yahoo search engine site as being too busy with too many distractions while searching on the web. Powered by the Yahoo search engine, AltaVista offers a direct and easy-to-use design that is sure to be a favorite among those who just want to search and not be bombarded by ads, news, and offerings from Yahoo's search engine site.
#2 – AlltheWeb.com Search Engine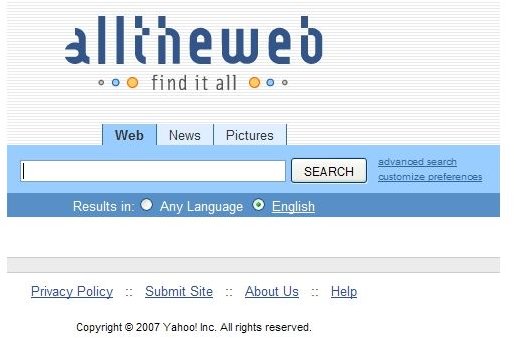 AlltheWeb.com is another search engine powered by Yahoo that offers a streamlined interface and the result relevancy offered by Yahoo. AlltheWeb.com's Search Engine Results Page (SERP) looks a lot like Google's, so if you want a clean, efficient SERP coupled with a search engine powered by Yahoo, AlltheWeb.com may be for you.
#3 – Gigblast Search Engine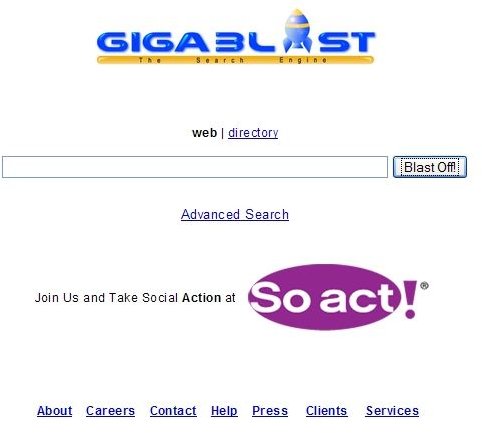 Gigablast is another search engine that subscribes to the less-is-more theory of search engine usability. Founded in 2000, Giagblast was created to provide search engine functionality on the least amount of hardware possible at the current state of technology.
Today, Gigablast is a growing search engine that offers several advantages as an alternative to Google. One particular feature prized by users of the engine is the use of multiple colors on the SERP. It may sound like a silly reason to switch to Gigablast from Google, but if you sometimes get lost on Google's SERP, Gigablast may be your Google alternative of choice.
#4 – Netscape Search Engine

Netscape, now part of the AOL network, is a brand name that just won't go away. Offering the number one web browser at the early part of the Internet's life, Netscape was pushed out of the market by Microsoft's juggernaut Internet Explorer web browser.
As a search engine, Netscape is powered by Google so the results you get from both engines is likely to be similar. However, Netscape does offer a few enhancements to make your searches easy to navigate. Netscape offers more sponsored links at the top of the SERP than does Google so shopping online can be easier if you are looking for certain products and services. In addition, Netscape offers a nice, big search box so you don't have to hunt around and click on a search box just a few pixels tall.
#5 – Snap.com Search Engine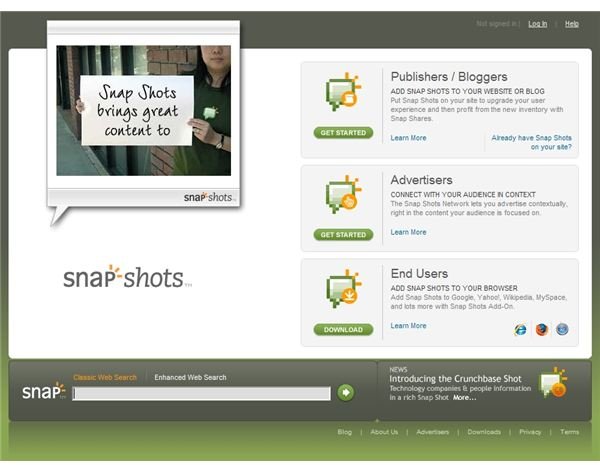 Snap.com is a search engine unlike others because many, instead of just one, other engines power it. Snap.com gets its results from Gigablast, Smarter.com, SimplyHired.com, X1 Technologies, Inc., and Ask.com. Does this create a more relevant SERP for users? That's for you to decide. However, if you constantly find that the results at other search engines are not relevant to your searches, try out Snap.com and see if your can make your Internet search results more relevant to your search terms.
Conclusion
Among the most popular online search engines stand a few smaller, but potentially useful engines that may be good alternatives to Google. In this Search Engine Showdown, the top 5 alternatives to Google were introduced and discussed. The engines explored here just may be a permanent or temporary alternative to using Google as your search engine of choice.