How to Remove Google Desktop Search Completely From Your PC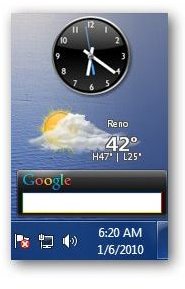 Removing Google Desktop Search
There are a lot of people out there who love Google Desktop Search, but not everyone is part of that crowd. Even if you are a fan of the utility, it's possible that you may need to reinstall it for some reason. If this is the case, it's best to make sure you completely uninstall the application first so you can start fresh. But, as with many Windows applications, leftover bits of the program can remain even after you've performed a standard uninstall process to remove Google Desktop Search from your PC. In this guide, we'll walk through the steps needed to get rid of these components so your computer can be completely free of the search tool.
The Removal Process
Before starting out, please note that this process requires you to restart your computer twice. So, it would be a good idea to either bookmark or print out this page before continuing.
Step 1: Start out by performing a standard uninstall of Google Desktop Search. To do this, first close all open applications on your PC. You can then proceed in a couple of different ways.
One way is to click the Start button, locate the Google Desktop folder in your list of programs, and select the Uninstall Google Desktop option as shown in the screenshot below. (Click any image for a larger view.)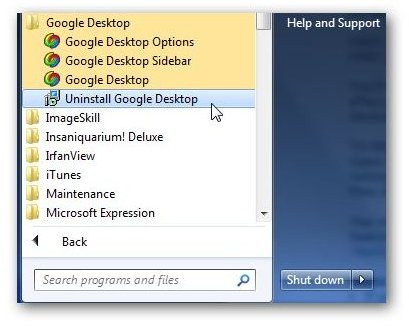 Alternatively you can go to the Add/Remove Programs utility (or Uninstall a Program if you're a Windows 7 user) in the Control Panel, find and select Google Desktop, and then choose the Uninstall or Remove option.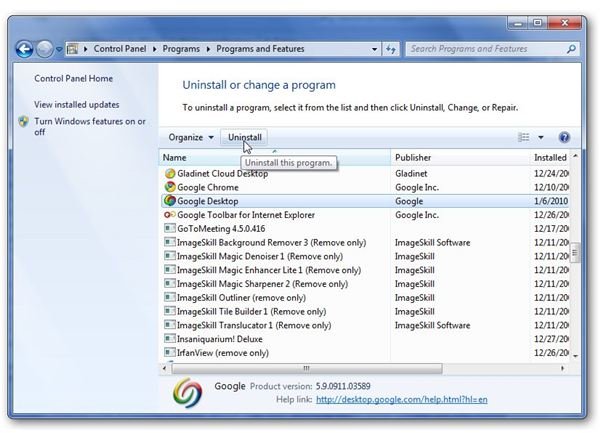 The screenshots above were taken in Windows 7, but the process is basically the same for any version of Windows.
From this point on, an uninstall wizard will walk you through the steps of removing Google Desktop Search from your computer.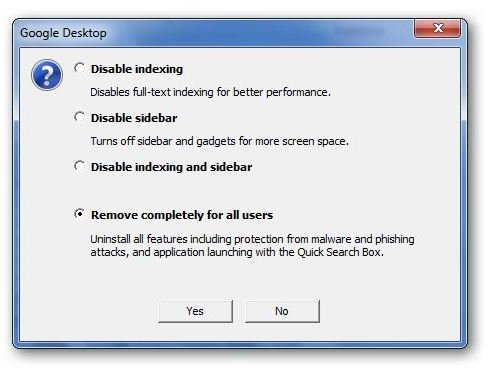 Make sure that you choose the Remove completely for all users option if you want to get rid of every component of the application.
Step 2: At the conclusion of the uninstall process, you'll get a message that states some components will not be removed until the computer is rebooted. Since we don't want any leftovers hanging around, go ahead and restart your computer now.
Step 3 (optional, but highly recommended): After restarting your PC, it's time to get rid of other remnants left on your system. This next step involves editing the Windows registry, so before you proceed, it would be a good idea to backup the registry. (For more information on how to do this, see Backing Up the Windows Registry.)
Step 4: Now, we'll proceed with editing the registry. Click on the Start button and type regedit in the search box.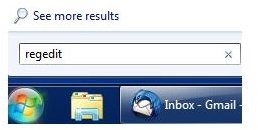 Hit Enter and the Registry window will open.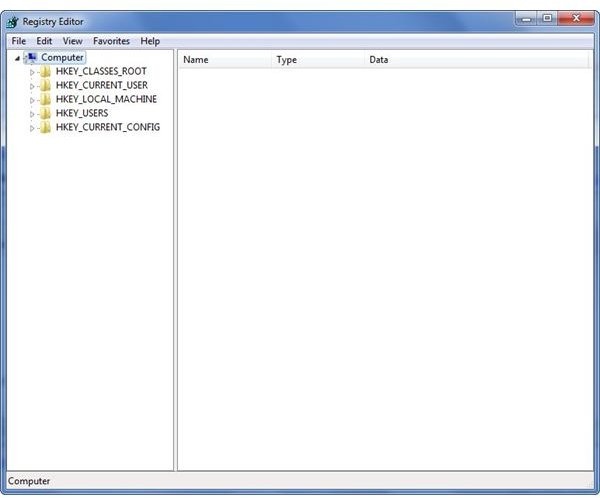 Check to see if the following folders exist in the registry:
HKEY_LOCAL_MACHINE\SOFTWARE\Google\Desktop
HKEY_CURRENT_USER\SOFTWARE\Google\Google Desktop
If either one does, delete it. (Note that it is possible that one may exist without the other, so be sure to check for both and delete each one if present.)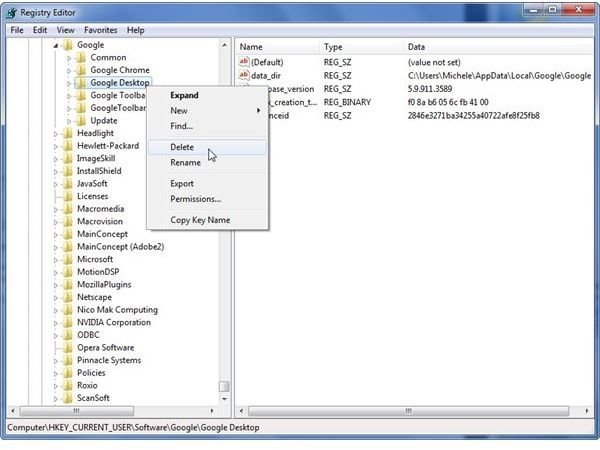 You can delete a folder in the registry by right-clicking on it and selecting Delete.
When done, close out the Registry window.
Step 5: Restart the computer again. (Yes, I know this is a pain, but it really is an important part of the process.)
Step 6: The only step left is to delete the application data files from your user settings. In Windows 7, this directory will generally be located in the following place:
C:\Users\username\AppData\Local\Google\Google Desktop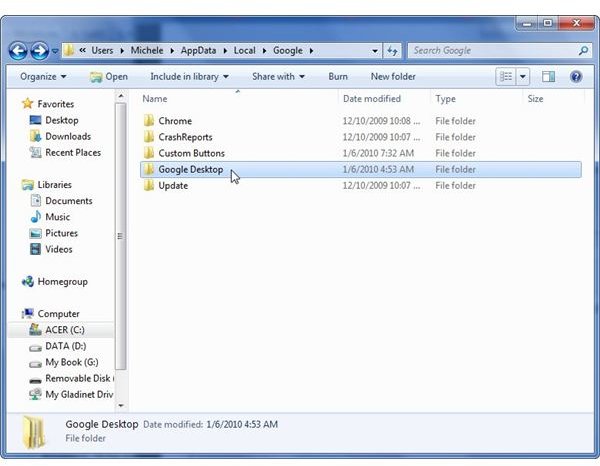 If using a prior version of Windows, you may find this folder in the following location:
C:\Documents and Settings\username\Local Settings\Application Data\Google\Google Desktop Search
When you find the directory, right-click on it and delete it.
At this point, you don't need to reboot your computer again, but if you plan to reinstall Google Desktop Search, it wouldn't be a bad idea to do so anyway.