What does Google Pack Include?

What is Google Pack?
Google Pack is a collection of software selected by Google for PC users to obtain and use for free. It contains a list of Google's most popular software (as well as from other companies): many useful programs for the home or office, such tools to handle photos, sharing music, videos and voice messages, viewing maps and files, browsing, and security.
Inside Google Pack there is the following software…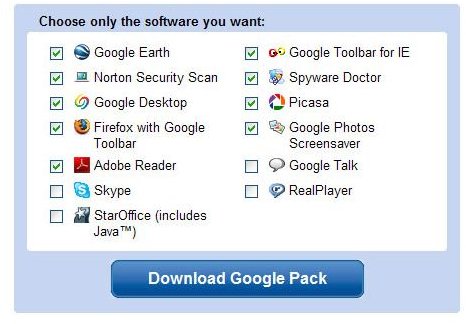 Google Chrome Web Browser - helps PC users browse the Web much faster, safer, and easier.

Google Apps - which includes use of the following applications: Gmail, Calendar, and Documents.

Google Desktop - used for easily retrieval of personalized info (e.g., email, files, and web history).

Adobe Reader - needed to be able to view, print, and search PDF files.
Google Talk - is used to send and receive files and voice messages.

RealPlayer - allows users to play and transfer music and videos.

Google Earth -provides maps and driving directions.

Google Toolbar for Internet Explorer - can be used for Web searches from any Web page.

Spyware Doctor with Anti-Virus - offers anti-virus detection and detects and removes spyware (and more).
Picasa - a handy photo management tool.

Skype - be able to talk to or share videos with other Skype users for free.
Wow! With so many useful Google utilities inside Google Pack, which one(s) will you select? Whatever you choose, just know that those software programs (that were selected by the PC user) will be ready to use instantly.
Note: The new version of Google Pack contains one new feature: avast! Free Antivirus. This is an award-winning antivirus and anti-spyware product.
How to Get Google Pack?
All it takes to retrieve Google Pack is for a PC user to select the software he or she wants, and then click on the "Download Now" bar. It's that simple!

System Requirements
To use Google Pack, Windows XP, Vista, or 7 are required.
File Size
(25.49K)
Why Download Google Pack?
Google Pack contains essential programs that are suitable for all PC users. Many of Google's popular software programs are readily available from the Pack. There are several programs inside Google Pack to choose from; surely there is a need for one or more of the available software programs.
* Note: Google Pack provides automatic updates through an auto-update program, so PC users do not need to worry about whether or not they are using the current features for each Google program. Also, there are international versions of Google Pack as well, so it is prepared to be used and appreciated by all Google users. Why not give it a try? Available is Google Pack new and old version. (See references section for links.)
Simply said, Google Pack is hassle free! There is no need for PC users to find, download, install, and update software, as Google Pack does all of that for the user.
Pros/Cons
There are many software programs to choose inside the Google Pack. All are free to use! Once the selected software programs have been selected inside the Google Pack, it has been known to take a while to download.
* Note: Google Pack may not impress all PC users at this time, but they can expect in the future newer versions of it. Users may want to first learn more about the software that comes with Google Pack before installing. (For quick access to the site, click here.) Advice: Users should choose only the software they want.


Additional software (to be used in conjunction with Google Pack)
PC users that do download the Google Pack may also want to download Google Updater, a tool that prompts to be automatically downloaded. This particular tool is needed to maintain all the software in Google Pack as it ensures that all programs are up-to-date. A Google Updater icon will appear in your system (as shown to the right) once Google Updater has been downloaded. These handy tools will display notifications when there are updates or new software available for those programs selected in the Google Pack. Also with Google Updater, PC users can monitor the status of the installed or uninstalled applications (as shown also to the right).
References
Read more about it in BH:
The New Version: https://pack.google.com/?version=3#tab=home
The Old Version: https://pack.google.com/intl/en/pack_installer.html?version=2
Image Credits: https://pack.google.com/intl/en/pack_installer.html?version=2