Learn About Google Fusion Tables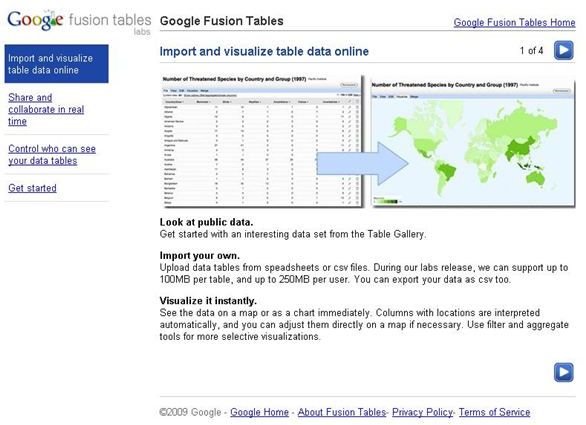 Overview
Google Labs recently released Google Fusion Tables. If you haven't heard of this application, well, you're probably not alone. But, Fusion Tables is a handy tool if you have to do a lot of database work with collaborators.
Avoid Getting Out of Sync
Getting out of sync is one of the major reasons why database systems are so hard to manage. With many different users accessing the same server, the same information can be input, duplicated or sent to others until everything gets confused or multiple copies get made. The problem with multiple copies is that many people will have different versions of the same database.
Part of the problem with traditional databases is that it is based on SQL queries and other types of transactions. So, Fusion Tables uses the cloud format to update any changes that are made by any collaborator. Basically, any search done, any data input from any source, any discussion made about the data or anything published to the web is merged into this single database.
Working with Collaborators
For example, let's say that you make a change to one set of data. Everyone who is a collaborator will see the latest version of that data. Plus, Fusion Tables has an attribution feature, which ensures that every change gets credit in the data set.
Google Fusion Tables also allow you to upload information from tabular data sets up to 100 MB/data set or 250 MB/user. These can also be shared amongst collaborators. You can set the settings for these data sets as well. If you only want to share certain sections of data with others, you can do that as opposed to sharing the whole set with others.
Just like a traditional data set, you can set filters, search and aggregate data from single or multiple, autonomous sources. You can also see the data on Google Maps and download and convert the data into a CSV file. Fusion Tables also allow for discussions of data at various levels, including rows, columns or cells. And, if a collaborator with editing capability changes something within the data during the discussion, everyone with viewing capabilities will see the changes as they happen.