Learn the Basics of using Google Listen - ARCHIVED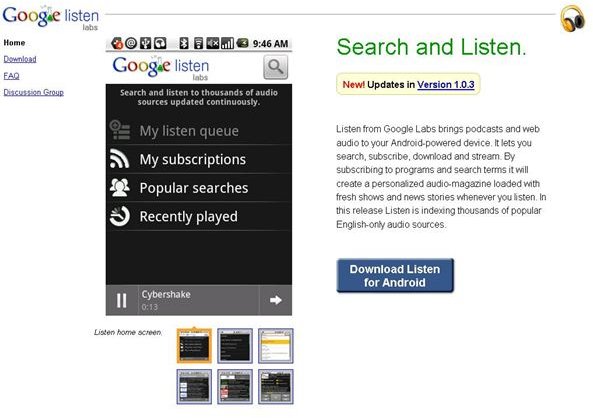 Editor's Note: This article was originally published in 2009 and has been placed in our archive. Google Listen is now known as Google Play.
What is Google Listen?
Google Listen is one of the latest offerings from Google's research wing, Google Labs. Google Listen allows users to download podcasts and webcasts of some of their favorite news magazines. Currently, Google Listen can only be used with Android enabled devices and cell phones.
Google Listen permits you to search for and then subscribe to your favorite programming from, right now, over 3,000 RSS feeds. You can also download and stream this programming. You can find the programming that you want to listen to by searching for specific terms in the search engine.
About the Service
A neat thing about this service is that once you search for a term, you can subscribe to that service by clicking the subscribe button next to the search term. Right now, however, this service is only for English-based audio series. You will generally be able to see the latest 10 or so episodes of your audio news magazine. At this time, you cannot get older shows.
While the advantage of a free service like this can be felt by many there are, however, some drawbacks to this service. First of all, it cannot be used with an IPhone, which means that a majority of the population will not have access to it.
Also, the selection is limited. You will be able to find many more matching episodes on ITunes and other such paid services. The streaming is inconsistent; oftentimes, the streaming will stop or be noisy. This can be very distracting if you're in a car where you can't fix the problem.
Another major drawback is that the RSS is hosted on Google Servers, it could take many hours before the requested podcast shows up in your Google Listen menu.
Overall, however, the service should be quite useful once the kinks are worked out. It's free, which is a great plus, and Google promises to improve its offerings over time. Google has also said that they will start offering non-English programming in the future.
How To Install Google Listen on Your Mobile Device
How do you use Google Listen? Well, the first thing that you need to do is download Google Listen onto your Android device. You can do this two ways: via the Barcode Scanner from Android Market, or by Android Marketplace.
To download Google Listen via the Scan QR code, follow these directions:
Open the Barcode Scanner.

Position the camera for your phone at the screen.

Scan the QR code.

Follow the installation instructions that appear on your device.
To download Google Listen via the Marketplace, which is probably the easiest way to do this, follow the below directions:
Open your mobile device, and go to the Android Marketplace.
Go to the Search bar.
Type the words "Listen here" into the search box.
Ensure that you have found the Listen device, and click it to install it on your device.
Use the provided installation directions to install it on your Android enabled device.
Finding Content on Google Listen
Once the application is installed, finding content that you want to listen to is pretty easy. Find the search bar, and type in some search term phrases that match what you are searching for. For example, if you like NBC Nightly News, simply type NBC Nightly News into the search box.
When you find content that you like, you can then subscribe to this content by clicking the "Subscribe" check box next to the content. By using the subscribe feature, your favorite episodes will always show up in your queue.
There are some caveats to finding your content. Only the 10 most recent episodes of your favorite news programs will more than likely be available. The content is also limited to around 3,000 RSS feeds. So, you will probably have to give Google Labs some time to add more content. Last but not least, the only current language available for Android content is English.
This article has been placed in our archives.