How To Monitor All Of Your Google Services Easily With Google Dashboard

Google Services
Without question, Google has become a web powerhouse. Not only do they offer a top-notch search engine and Gmail email accounts, but they also offer countless other services as well.
Any webmaster, or anyone who likes a lot of customization with their web browser, can easily be using over five Google services at all times. Oftentimes, they also use other Google services as well, just not as often. It can become confusing, even when using iGoogle, to keep track of and monitor all Google services.
However, Google has recently launched the web application, Google dashboard, to allow a Google user to monitor all of their Google services in one spot. This can be of great benefit, especially when using multiple Google services at once.
What Does Google Dashboard Do

Google Dashboard is accessible directly from your Google account page, displays a list of all of your Google services. Besides the name of the service, you will find some minor details of the service.
For example, if you use Google Docs, Google Dashboard will show you the last three documents that you used in Google Docs. If you use Gmail, Googld Dashboard will show you how many messages are in your inbox, how many messages you have sent, drafts, chat history, etc…
How To Get Started With Google Dashboard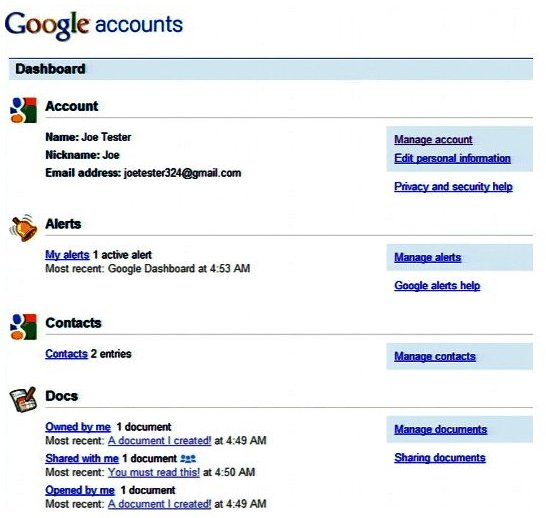 If you are reading this, more than likely you already have a Google account. If not, you can get an account by visiting this page.
Sign in to your account. From your sign-in homepage, navigate to the settings link, located as text in the upper right hand corner of the screen. This will activate a drop down menu. From the drop down, select Google account settings. This should bring you directly to your Google account page.
Under the "Personal Settings" section, located on the upper right side of the Google account page, click the link that says "View data stored with this account". This will bring you back to the login page. From here, it's just going to have you verify your username and password. Type them in and click sign in. That's all there is to it. You should now be at your official account dashboard where you can view a list of all your Google services and settings.