Part 3 of the Google Webmaster Tools Series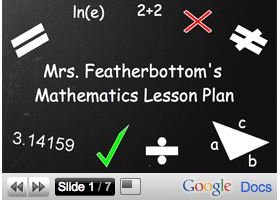 Presentations
Presentations is the sixth element of Google's Web Elements toolset. Be aware, that Google Presentations does not work with just any standard presentation software such as Power Point or Keynote. To make use of the Presentation Web Element, you must either create or upload your presentation using the Google Docs Presentation software. After the presentation is completed through Google Docs, it's time to put the Presentation Element to use.
What it does. The Google Presentation Element allows a webmaster or blogger to output a Google Docs presentation slideshow directly into a webpage.
Why it's useful. Being able to show a slideshow directly within a webpage is very good for your site's visitors. Before, a visitor would have to leave your page and sign-in to Google Docs in order to view a presentation. By using the Presentation Web Element, you can directly embed your slideshow in your site. This will allow a website visitor to spend more time on your site.
Who should use it. Just about anyone needing to add a presentation to their site. Teacher's would find this element especially useful as they could display slideshows to their students directly from an educational web site. Any blogger who writes a lot of tutorials could easily add visual appeal to their tuts by creating presentations.
The Presentations element is customizable in size: small (410x342), medium (555x451), and large (700x559). This allows for easy placement within any site or blog. You could even place it in a sidebar if you have other main content that you want to display. The Presentation Element is very simple to add, all you need to do is copy and paste a simple html code.
The best feature of the Presentation Element is its ability to auto-change. So, if you add a new slide or edit information on your Google Docs presentation, changes will automatically take effect within the Presentations element on your website as well.
Spreadsheets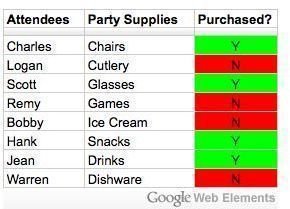 The Spreadsheets Web Element is very similar to the Presentation Element. It is added to a site or blog the same way, is customizable in size, and auto-updates. To use the Spreadsheets document, all you have to do is copy and paste the URL of your Google Docs spreadsheet directly into the spreadsheets element page. You can also edit the cell range to customize how the Presentation element will be displayed on your site or blog.
YouTube News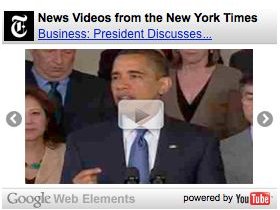 The YouTube News Web Element allows you to add a YouTube widget to your site or blog easily via copy and paste html. In terms of usage, the YouTube news element is simple. Just use the drop-down menu on this page to select a source, copy the html, and add to site. Note that the html contains a width and height. You can change the size of the YouTube widget by changing these variables, as there is no automatic resizing option.
The downfall of the YouTube News Element is that you cannot use your own videos. There are only a limited amount of providers to choose from. Perhaps in the future, Google will allow YouTube users to add their own channels.
This post is part of the series: All About Google Web Elements
Google Web Elements is a series of add-ons for webmasters that will allow your website's viewers to interact much more with your website. There are currently a total of eight elements and surely more to come.