All About Google's Power Meter Service

PowerMeter Shows Energy Readings As Well As Google's Reach
… Navigation and Maps, blogger, YouTube, Adsense, Adwords, Double Click, Wave, Gears, News, Product Search, Image Search, Video Search, Maps, Knol, iGoogle, Webmaster Tools, Chrome operating system and many more.
One of Google's newer services, PowerMeter, revolutionizes the way that you monitor electricity in the household. This seems like a very uncommon service to be offered by a web company. However, Google showed us long ago that they were not limiting their services to be "internet only". Google's patented text service was one of the first Google projects that allowed users to interact with Google without being at a computer.
About PowerMeter
Like the heavy majority of Google services, PowerMeter is offered at no-charge as a completely free application. As far as PowerMeter's purpose, the name is pretty self explanatory. PowerMeter offers a solution for monitoring energy consumption within your household. It works by taking in information from existing smart utility meters and energy management devices in a home. From there, Google PowerMeter outputs a reading to your iGoogle homepage, which is accessible through your Google account.
Using PowerMeter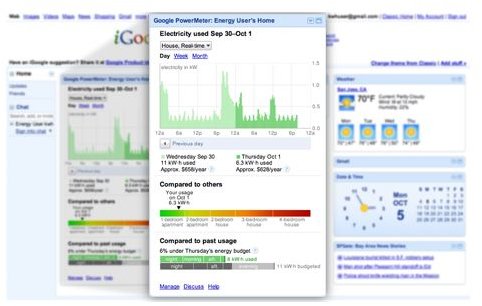 PowerMeter does give some very good, useful information. How accurate this information is, however, is still up for question. PowerMeter shows you day-to-day energy usage info as well as month-to-month and yearly. How is this information useful? Mainly through billing.
Say you get a ridiculous energy bill one month. The month before was a decent rate. PowerMeter's energy usage history will allow you to go back to last months usage and analyze it.
PowerMeter also outputs a power usage ranking. The ranking shows two major classes: current energy usage vs. past energy usage, and your household energy usage vs. everyone else's household energy usage. So, if you are showing up in the top 10% of nation-wide energy usage, you should probably get that checked out.
Currently, many areas may not offer the right "smart devices" to use PowerMeter. More than likely, this will change only if Google PowerMeter gains some popularity and demand among the nation's many home owners.
Google is currently taking steps to create and partner with many energy-device companies to make PowerMeter readings more convenient. For example, by using this device, you don't even need to be at your computer to view readings. Simply set the device in your favorite power-reading location, and check out details in real time.
Want to check out more about Google PowerMeter? Visit Google's official PowerMeter page here. To view any kind of in-depth information about PowerMeter, you will need to create a Google PowerMeter account, which you can do here.