Google Maps Business Locator: How To Get On Google Maps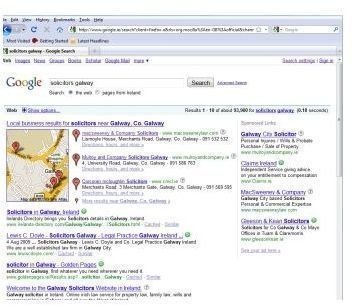 How Does Google Maps Work
Google has a feature called Google Maps, which is a service that offers mapping technology. Google Maps has a huge directory listing published that maps the location and contact details for each listing for a dynamic, scrollable and searchable mapping interface. Listing here allows prospective customers to get a graphical map interface of the business. Moreover, this can be done using a PC or mobile.
This is a great way to advertise your business, and it is provided by Google for free!
Google Maps And Driving Directions
Searchers looking for a specific type of business in a particular geographical location can type a variety of similar search terms into the Google Map search feature. Searches could be based upon the type, location, distance, etc. of the business.
The results returned by Google Maps are a listing of all business that fit the search terms. A graphical map interface also appears. One can select the listing on the left and navigate the location on the map. The map can be zoomed in and scrolled around. The gadget also allows for the viewing of a satellite image. This would also give you an option to view the business contact information and driving directions to the location from your home or selected location.
Google Maps can also be used on mobile devices. This is especially helpful in situations where the person had no access to a computer at that moment, for example, if he were to have driven down to the location, and needed further detailed directions on the spot.
How To Get On Google Maps
Google Maps can direct a lot of traffic to your shop, as well as to your website. Thus, make sure that the posted information is accurate. To add your business to Google Maps, follow these step-by-step instructions:
Step 1: Go to Google Places for Business. Enter your business contact, location, phone number and other basic details.
Step 2: The next screen asks for your business description, forms of payment, store timings, parking information and categories that would best describe your business.
Step 3: You will need to verify the information, either through a phone call, postcard with the address or SMS service.
Step 4: Once the pin code is received by means of the verification process, activate the listing.
Once this is done, your business will automatically be listed on Google Maps, Froogle Google Product Search, Google Earth, and even Google Search. You will be able to see your business identified clearly with a pin on Google Maps.
Resources