Google Images Search - Tips, Tricks, And Third Party Applications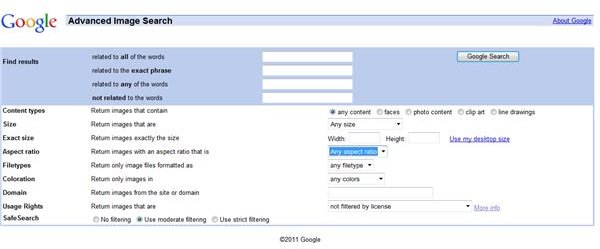 Clarify Doubts and Create Albums
When you enter your keywords for searching an image, Google searches for images by matching the keywords with filenames or by the caption attached to the image. Google Image Search keywords are text from the sites that link to the images. Hence, it works as a better search for Flick photographs and generates even more relevant results.
Wish to know how a kiwi fruit looks? Search for its image on Google. Even if you can't understand meaning of a word, looking at the images will certainly help. Google Image Search proves to be a handy tool whenever you wish to confirm or know the appearance of a person or any item.
Search A Website For Images
You may separately view the images from a site like guinnessworldrecords.com to get the most interesting ones.
Type name of a celebrity followed by the site name. You can get the most comprehensive collection of his photographs. Use an artist's name and you can download his entire collection of album arts. The usage for picking up images from a particular site would be something like this:
keyword site:sitename.com
If you wish to collect Ferrari posters, type in "Ferrari site:carsforsale.com" without quotes.
The results will contain all images related to "Ferrari" that are present on the site mentioned here as "carsforsale.com". Using Image search, you can clarify your doubts, create collections of images you like, and even go ahead to play mischievous or some serious research.
Some Tips And Tricks
1. Did you know you can get new wallpapers for your desktop by restricting your search to "Use my desktop size" in Advanced Image Search option.
2. Get onto your mischievous side or just to appreciate the beauty of mundane life of common people, find random personal photographs of people. Who knows with a little luck on your side, you might end up having a funny picture of your Boss or friends.
3. Working with Cameras
If you work with digital cameras you must be aware that digital cameras use a standard file naming protocol. For example, Kodak cameras use this name convention: dcp#####.jpg, where ##### is replaced by a number, HP Photosmart uses IM######.jpg. People are often too lazy to rename the photographs while uploading photographs to websites.
You can search for random photographs using standard file names from digital cameras. Random Personal Picture Finder is a website that generates random file names using the name conventions for some popular digital cameras and sends them to Google Image Search. This way, all you need is to enter the filename in the camera's standard name format. With a little bit of luck, you can get the image you are looking for.
Add-Ons For Google Images Search
In a normal search on Google Images, you get a list of thumbnails that point to a frame page: you'll see another small version of the image and the webpage that included the image. To see the full-sized image, you click again. You can get the full size image directly with a single click.
To achieve this for Firefox, you can install Customize Google extension that, among other features, rewrites links to point straight to the images. If you already have GreaseMonkey installed, you can add the script from Patcavit Website listed below.
For Opera, save the script from UserJS.org to a folder on your computer and make sure you set the option from [Tools/Preferences/ Advanced/Content/ JavaScript options/My JavaScript files] to that folder.
Internet Explorer too has a GreaseMonkey clone, called Trixie. It supports most GreaseMonkey scripts, so you can use the script for Firefox in Internet Explorer too.
If you wish to download the entire search results at a time, GoogleGrab is just for you. It downloads images obtained using Google Image Search and even supports batch search.
References