Halloween Themes for Blogger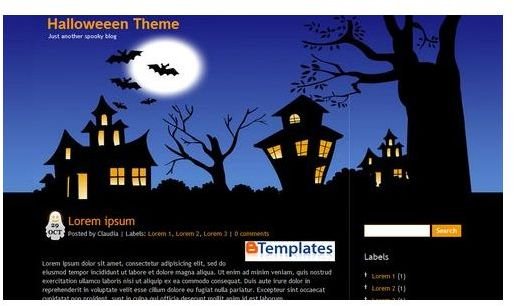 Google Blogger
Google's Blogger system is a great and free way to create your own online blogging presence. The system comes with a set of ready made templates but in the spirit of the holiday season, we are going to take a look at some free Halloween theme templates that you can use to dress up your blog.
To use any of the following templates in Blogger, simply log into your Blogger account which uses the same log in and password information as your Gmail account. Once you are logged in click on the Templates tab in your blog dashboard and choose the Edit HTML menu bar choice. Under the code editor, clear the html that is currently in use and copy/paste the html code for the template that you choose.
Spooky Themes for Blogger
Our first template comes with a black background and features orange skulls. Called the Halloween Skulls Template, this design is a three column theme and can be downloaded through BloggingTips blog through this direct link: Halloween Skulls To view the demo for this theme click through here: Halloween Skulls Demo
The creative people behind the WishaFriend flash web site of graphics have created a selection of free Blogger templates just for Halloween. A full collection of ten pages worth of themed templates that run the gamut from Zim and Gir in Halloween costumes through to spiders, witches and skulls are available. To view the entire selection, click through to their holiday template gallery here: WishaFriend Halloween Blogger Themes
More free and well designed Halloween templates for your Blogger blog comes from eTemplates. Individual code creators upload their designed templates for free use through the web site with a link back to the creator of the template. Once of the most popular and clean looking templates from this site is the Haunted House theme shown at the upper left. To view the entire holiday theme gallery of templates, click through here: bTemplates Halloween Themed Templates
Other great and free places to get Halloween theme templates for use with Goggle's Blooger are as follows:
Finalsense.com - Halloween *the image below is of their pumpkin template.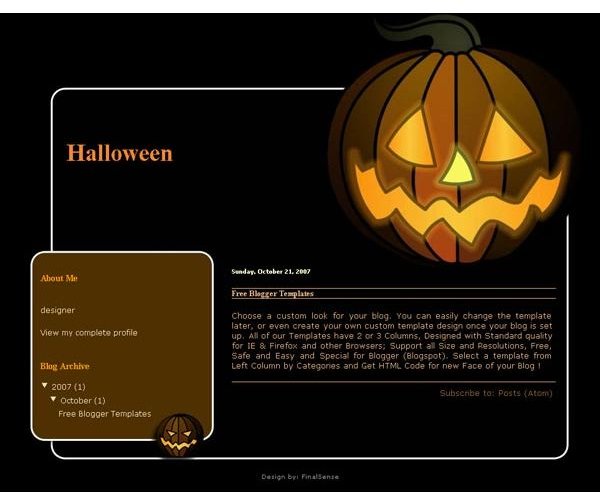 Whether you are looking for a Halloween holiday theme or just want a spookier overall look to your blog that will last throughout the year, the above links are some good resources to get those free templates!
Installation on any of these templates into your blogger account should be a fairly simple task. Each link offers a readme file for instructions on the different styles of templates, as not all of the templates will have the same standard HTML code. If you need help installing any of these templates into your blogger, see How to Install a Blogger Template.
*images used are listed under the Creative Commons license