Google's Calendar and Conversation Web Elements Great For Webmasters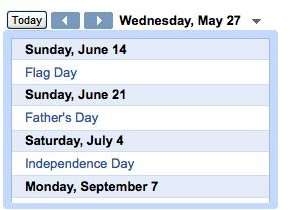 About Google Web Elements
Web Elements is Google's latest bundle of apps designed for use by webmasters. Web Elements is basically what its' name implies, a group of elements that can be added to your webpage. Webmasters have the option of only adding certain elements that they want, to be displayed on their website. To add the actual apps, all you have to do is copy and paste a code into your website's source, similar to the way you would add an Adsense advertisement. To access Google Web Elements, all you need is a Google account. Google Web Elements currently consists of eight separate elements.
Calendar Element
The first element is Google Calendar. Google Calendar is a widget like element that can quickly be added to any portion of your website. You can even have an individual page on your website, for the sole purpose of displaying the Calendar element (maybe an events page). Also, you can customize the size of the calendar, which is currently available in three sizes: small (300x300), medium (400x400), and large (500x500). The small calendar is recommended for placement in a sidebar, the medium calendar is recommended for placement in a sidebar or footer, and the large calendar is recommended for placement on it's own page. There are also two formats of calendars to choose from, agenda and monthly. The agenda format is a list calendar that shows the date in bold, with links to events underneath. The monthly calendar looks similar in appearance to a typical calendar you would hang on your wall. It has a grid-like structure.
Conversation Element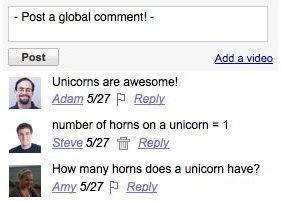 The Conversation Element is an easy way to allow your website visitors to communicate with each other and post comments directly to your website. Conversation Element is also compatible with Google Friend Connect. The Conversation Element is available in three basic sizes: tall (250x440), wide (600x410), and full page (600x700). The tall sized is recommended for placement in sidebars, the wide size is recommended for placement near footer or header areas, and the full page size is used for specific Conversation Element individual pages.
To spark up good conversations, the Google Conversation Element topics can be chosen from over 15 pre-selected categories, or customized to your own preference of topic. Some pre-configured topics are: astronomy, cooking, fashion, music, travel, etc…
After you have chosen a topics, Conversation Element will allow you to choose whether or not you want to keep your conversations specific to your site, or share them across the web.
One notable feature about Conversation Element is the built-in instant translation capability. Adding the Conversation Element to your website will allow users of all different languages to communicate on your website.
To check out the rest of Google's Web Elements, be sure to read part 2.
This post is part of the series: All About Google Web Elements
Google Web Elements is a series of add-ons for webmasters that will allow your website's viewers to interact much more with your website. There are currently a total of eight elements and surely more to come.