Co-Author of Google Chrome Guide Shares Her Thoughts In An Interview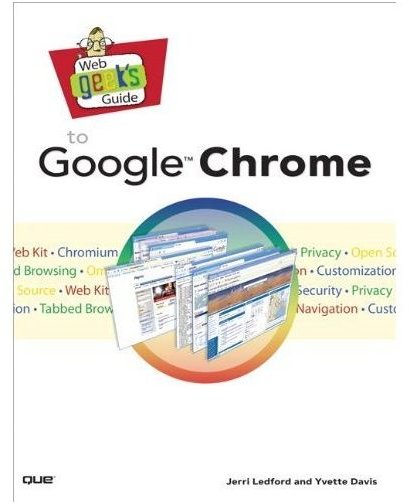 Interview
Chrome is a fairly newer web browser. It was released in stable version by Google just 8 months ago (11 December 2008). Because it is still fairly new to the public, Google Chrome does not yet have a lot of information out about it. Author and internet enthusiast Yvette Davis has recently co-written a book alongside Jerri Ledford titled Web Geek's Guide to Google Chrome. Here is the interview:
Q: You are co-author of this book alongside Jerri Ledford, I know Jerri has written some other books. Is this your first print publication?
If no, what other books have you written?
if yes, how was the overall experience for you, being a newer author?
A: Web Geek's Guide to Google Chrome was my first book. However, I have published quite a few magazine articles, and I've been a freelance writer for approximately 10 years. My writing work spans the fields of education, child care, spirituality and computer technology.
Co-authoring my first book with Jerri was a wonderful experience. I enjoyed the process very much and look forward to writing my second book.
Q: What is your history as far as technology and the internet?
A: I have been writing about computer technology for several years. I got my start as part of a freelance copywriting project I was working on. A client had a falling out with their staff tech writer. I was working on a freelance marketing project for the client, so they called me to ask if I could take on the tech writing project as well. I
Q: The old saying goes two heads are better then one, how did the idea arise for you and Jerri to collaborate on a book about Google Chrome.
A: I'm really not sure. I've known Jerri for several years through our shared online writers group, and I was working as Contributing Editor here at the Google Channel. Jerri emailed one day and asked what I knew about Google Chrome and if I had time to co-author Web Geek's Guide to Google Chome with her.
Q: As far as piecing the book together, is it individual sections by each of you or more of an overall collaboration throughout the entire reading?
A: We split the book up into sections. Jerri wrote Part I and Part III. I wrote part II. We did it this way so we could each play to our strengths.
Q: Which overall audience would you say would get the most out of this book?, a beginner to internet browsers or someone more advanced who is looking at the complexities and code of Google Chrome?
A: Web Geek's Guide to Google Chrome starts with the basics of Chrome, and moves to the more advanced topics, like writing your own Greasemonkey scripts, or creating custom themes for Chrome. There is something there for users of every technical level.
Be sure to check out part II of the interview for more about Yvette Davis and Google Chrome.
This post is part of the series: Interview With Yvette Davis, Author of Web Geek's Guide to Google Chrome
The following 2-article series contains an interview with Yvette Davis, Co-author of Web Geek's Guide to Google Chrome. Because Google Chrome has not been out for that long, Web Geek's Guide is one of the first elaborate how-to guides.