How to Export Google Notebook Entries to Google Docs and Other Programs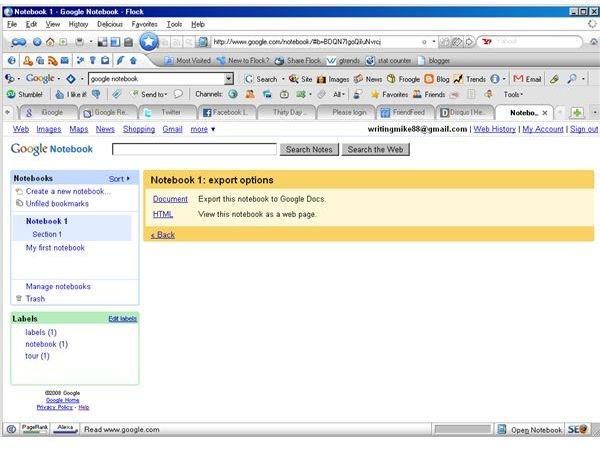 Exporting Google Notebook Posts
Sometimes more functionality might be needed when working on a document than Google Notebook provides. Google Notebook is a great tool for collecting, organizing and storing information, but once in a while nothing beats a good word processor. Notebook has a great function designed to export your document into a great word processor called Google Docs. It provides the utility of a full word processor, enabling a document to be modified in a larger variety of ways than it can inside Google Notebook.
Now why would you want to use Google Docs over your MS Word or Openoffice? There are a few advantages. First, there is a fast and easy option to export your notebook into Docs. Secondly, Docs is a web based application, so any work you do there is saved online for easy access from any computer connected to the 'net from anywhere, at any time. Plus, Google Docs has collaboration options and more, making it easy to share or work as a team on a document.
Let's go through the steps to export your document from Google Notebook to Docs. First, go ahead and open up a notebook that you might want to share. It's important to note that this will export all of the notes contained within that notebook, so if you do not want to share them all, it might be a good idea to create a new notebook labeled "export" or something similar, and drag and drop the notes to be exported into the new notebook.
Now that you have the notes you want to share in a notebook, look down at the bottom of the main text box, and there will be a link named "Export". Click on that link, and a small yellow box will show, labeled "Export options". Ignore the HTML link for now, we're going to concentrate on the "Document" link. Clink the link that says "Document" Export this notebook to Google Docs. Now one of two things will happen. You'll either get a request to create a Google Docs account. Go ahead and do this, using the same Google account you already have for your Notebook. If you already set up your Google Docs account, it will take you right to a new document with your note inside, all ready to go.
Briefly let's cover the HTLM export option. This is great for showing your note in a web page format, which is a great layout for easy reading, and it's nicely laid out for printing as well. It is important to note that this does not create a web page for sharing with other people. You'll need to see the Sharing Your Google Notebook article for instructions on how to do that.
Using the tools provided within Google Notebook allows you to quickly move your notes to a full featured word processor, or view it in on a cleanly laid out web page, for easy reading or printing.
Export Function in Google Notebook