Identify people with Picasa Face Recognition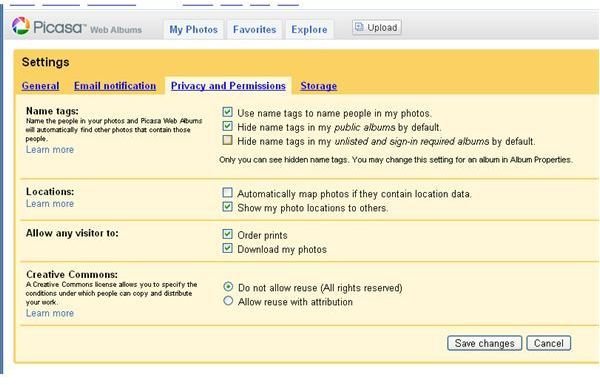 Face Recognition
Google's Picasa Web Albums has a feature that makes it easy to attach names to the people in your photo collection. With Face Recognition software, Picasa can find the people in your pictures and even guess who they are just only facial features alone.
Setting Face Recognition Up
To activate this feature, log in to your Google account and click on Photos to activate Picasa Web Albums. Once the albums has opened, click on Settings and then select the Privacy and Permissions tab.
After you have set those in place, next click on the checkbox for Use Name Tags. After you select the box, Picasa will then present you with a few more options. Completeing these settings now will give you some control over who will be able to see the Use Name Tags in the future. When you have finished the settings to your satisfaction, just return to the main Picasa page.
Applying Face Recognition
One the home page for your Picasa album, there will now be a new button on the right side of the page for Face Recognition. To enable this affect to take place, click on it and the program will start the scanning process through all of your photos.
As Picasa scans through your entire library looking for faces, the application will run in the background. This will allow you to leave the computer or even navigate away from the page without affecting the scan.
Obviously, the more pictures in your collection, the longer the scan will take. When the search for faces is complete, Picasa will let you know, by showing a summary count of the number of faces it found. When the application has run its course, click on the Add Name Tags button to see how well Picasa did at picking out faces.
The program thinks that all of the faces in this collection are the same person. Using the checkboxes below each image, you can mark all of the pictures that really are of the same person. Enter their name in the box provided, and click Apply. As you work your way through each collection, you'll see that Picasa is really good at identifying faces.
Picasa can make mistakes. Sometimes there's a billboard in the picture, or a gorilla's face at the zoo. These are the images that can be filtered out by using the Ignore or Not a Face links at the bottom of the page, unless, of course, you know the gorilla's name.