Make Resume Writing Easy with Google Resume Templates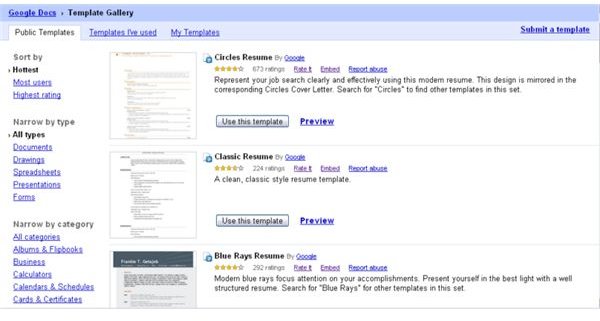 Getting Started
To access Google Resume Templates, you must have a Google Account. For those who have an account, you can skip this paragraph. If you do not have an account, type docs.google.com into your web browser to be taken to the Google Docs homepage. Click the blue Get Started button to begin the sign-up process.
After logging into your account, simply click Documents located at the top of your screen. If you do not see Documents (it is because you don't use the feature often enough for it to appear at the top of your page), click more. You will be presented with a drop down menu, and the Documents link will be located here.
Once on the Document page, click New. A drop down menu will appear. Click From template. You will immediately be taken to the Template Gallery. On the left-hand side the template types are sorted into different categories, and on the right-hand side are previews (thumbnail images) of the templates. There are two tabs, Public Templates and Templates I've Used. The only tab of your concern is Public Templates, and no actions are necessary as it is already on the screen.
Choosing a Template
Begin scrolling down the page until you reach the header Sort by Category. Beneath this heading, click Resumes and Cover Letters. There are resumes and cover letters authored by Google, as well as TemplateZone. You can choose from classic, colored, student, and project-based resumes. Although there aren't a large number of cover letter templates, their simple yet professional look makes them increasingly popular.
If you see a template that interests you and would like to take a closer look, click Preview. The preview will open in a new tab. If you like it, simply click Use this template. If previewing isn't necessary, click Use this template when on the Public Templates screen. After you have completed your template and made the desired changes, click Save and Close. The next time you visit, you can find this template under the Templates I've Used tab.
Google also allows you to rate the template, embed it onto your website, and share it with your friends! Click here for more helpful tips to ehance your resume
Screenshot of the Google Resume Template Gallery