Getting the Most from Google Calendar - Best Google Calendar Features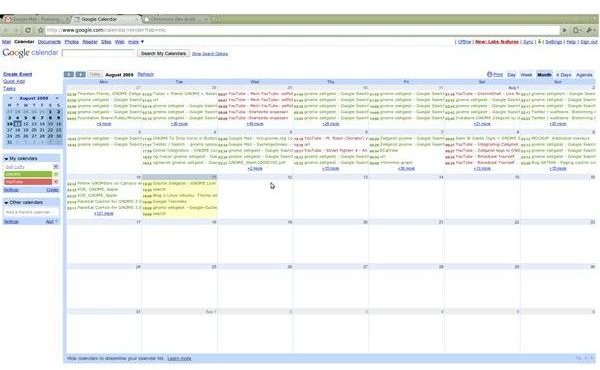 How To Get The Most From Google Calendar - Quick And Easy Ways
Here are some of the best features of Google Calendar that will let you get most of the Calendar:
Add holiday calendar, moon phases and events
Do you want to keep up with sports day, birthdays and other special events? Why not get Google Calendar remind you for a particular event lest you might miss it? On the left side of the page, click on the + button beside Other Calendar in the Calendars list. Click on the Browse Calendars tab and then add moon phases or the calendar of your choice.
Are you a sports devotee? Calendar lets you search the name of your team and you can also add scheduled games on to your calendar. TV addicts can also add TV schedules of their choice.
Display an agenda in GMail
Seeing your upcoming appointments in GMail would be a desire of many. Now, it is made possible by a greasemonkey Add Calendar Feed to GMail script. Install the script and then create a Bookmark for your Calendar feed using your personal XML link from the Settings page. Make sure you give your name your bookmark GMgcal. From T****ools > Greasemonkey > User Scrip****t > Commands in Firefox, run the GMail Agenda setup. You will see your upcoming calendar events shown between your contacts list and labels list. This is quite useful to have a listing of your upcoming events right in your e-mail.
Customize your view
Google Calendar gives you an ability to customize your view as you like. If you go to the Settings page, and then to the General Tab, there you can adjust many view settings, for example, you can change tabs to Next 2 Days , Next 4 Days or Next 2 Weeks, etc. At the same place, you can also set time and date format that you like, the start day of the week, and weather for your area.
View your calendar with a large view
If you are using a small display or a Laptop, you might like to get a bigger view of your Calendar to be able to read everything clearly. For this, there is a Firefox extension Full Cal that gives you keyboard shortcuts to switch between normal and full view on your Calendar.
See where you're on the calendar
You can show a line on the current time to today's calendar box with a greasemonkey script; click here to download it. This red line will immediately show you when you are approaching an event or a meeting.
Share your free and busy schedule with others
If you have a busy routine and your most of the day is spent attending meetings and web conferences, you will surely want to let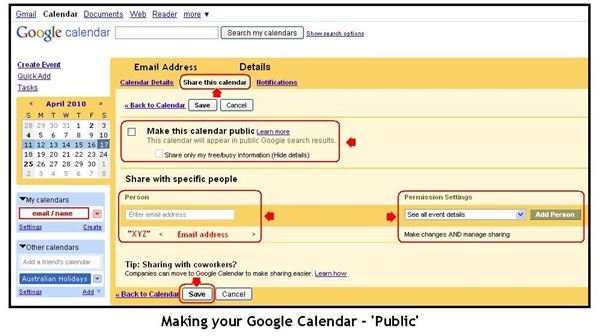 friends and colleagues directly know when you are available. To share your availability and event detail with others, go to Settings ->Calendars. Then, click on Share this calendar for the particular calendar you want to share, then select Share only my free/busyinformation (hide details) and press the Save button. You do not have to worry about revealing your information to everyone because when you choose this option, your event details will not appear in Google Web search. Now, go back to the calendar page, click on the HTML button and click on the Configuration tool in the dialog box that appears. All set up! You can now generate HTML code for embedding your calendar on a web page.
Add events as text
Besides being able to add an event in a Google Calendar way, you can also enter your events as free text. To do this, press the q button on your keyboard or click on the Quick Add link on the right side of the page, and then enter time, title and description of your event. If you want to invite your friends, you can do so by simply adding their e-mail addresses. You can also create repeating events with specific duration.
Receive event notifications and reminders
I like to get email notifications of all the events created on my Calendar, surely you will also like it. To get notifications by email, go to Settings > Notifications, where you select events you want to get notifications for.
Even better than this is to get your daily program sent to your cell phone via SMS. Simply set up Google Reader to send you events via SMS and after that send a text "day" to 48368 and Google Calendar will send you a text containing your full day's agenda with complete information. Send "next" to the same number to get your next event.
These were some of the best features of Google Calendar that will let you get most of the Google Calendar
References
Doe, John. "Alternatives to Google Earth". PreciousJohnDoe, Feb 6, 2011
Images Credit: Screenshots provided by author