iGoogle: Creating Your Homepage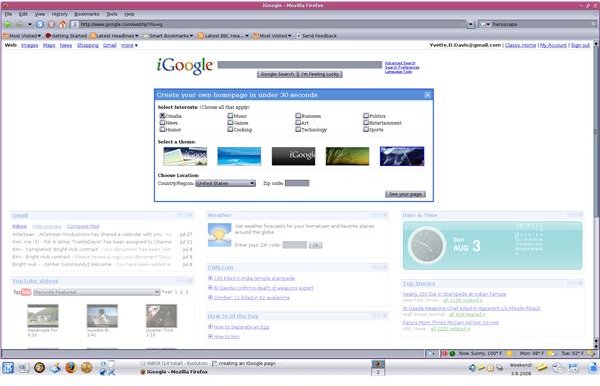 Create Your iGoogle Page
iGoogle is a combination desktop, information manager, game console, and RSS feed, all in one place. By using iGoogle, you can bring your Google Calendar, Gmail, Google Docs, and all your other Google services to one convenient homepage. You can even add RSS feeds, games, stock tickers and local, national and international news.
To Create your iGoogle page:
1. Go to www.google.com
2. At the top right of the page, there are links for iGoogle, and Sign In. Click Sign In. Enter your username and password.
You will see a box in the top center of your screen. This box allows you to customize your iGoogle homepage quickly. If you'd like to skip this step, click the X on the top right corner of the box. Your iGoogle page will be created using default settings.
To complete this step, continue reading.
3**. Select Interests:** Select any of the listed interests for which you'd like iGoogle to display news and updates. If nothing listed interests you, don't worry, I'll show you how to find other interests in future iGoogle articles.
4. Select a theme: Click on one of the theme choices. Again, if you don't like any of the default choices, don't worry, I'll show you how to find hundreds of iGoogle themes in the article named Customizing iGoogle.
5. Choose Location: Select your country from the Country/Region drop down menu. Enter your Zip code in the text box.
When you're finished, click See your page.
That's it. Your page is created. Now you can add widgets to play games, track your RSS feeds, read news, access all your Google Services, and just about anything else you may want to have at your fingertips. As Google continues to expand and add new applications this will surely be a handy tool to keep track of it all.
Images