Open Google Calendar in Gmail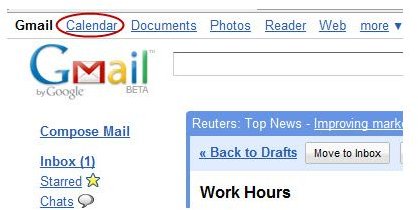 As if people don't have enough logins, Google makes its users' lives easier by connecting your Gmail ID with Google Calendar and other Google applications like Google Docs. If you already have Gmail open, you can view and manage your Calendar in Google without logging into Calendar. See the screen shot section to see how you access Google Calendar. Just click Calendar from the top of Gmail to whisk yourself over to the calendar, which opens in a new tab.
Using Google Calendar allows you to access your calendar from any mobile device or computer with an Internet connection. Google has a mobile edition of its services available for many handheld devices as well as tools to synchronize Google Calendar with your device, Outlook or other software.
Add Events
The following steps add a single event or an appointment:
Select the day of the event.
Put the mouse cursor in the time where it begins, and hold the button.
Drag the mouse to the end time, and let go of the button.
Enter the event name into the pop up window (see screen shot).
Click Create Event button or edit event details link to enter the rest of the information. If you click Create Event and you want to enter more details, click the newly created event and click edit event details link.
View Events and Appointments
The left side of the calendar shows the current month as well as your calendars. You can have more than one calendar and subscribe to other Google Calendars available to you. The bolded dates in the calendar indicate there's a scheduled appointment or event on that day. Click the day to jump to there. Use the « » next to the month to scroll to the next and previous months. Clicking May 2009 loads month tab, which shows the entire month in the middle of the screen.
The tabs in the right corner let you jump from day to week to month views. You can also view four days at one time or the agenda, which displays all the dates in a list format. See the screen shot for an example of agenda view.
Click the top of the event or appointment to view a pop up box with some details. Or if you want to view the full details, click the event name. You can also add a to-do list to Google Calendar and use labels and color codes. Make Google Calendar work harder with Eight Quick Tips for Google Calendar to Boost Your Productivity.
Screen Shots of Gmail and Google Calendar