Google Calendar: Sharing Your Calendar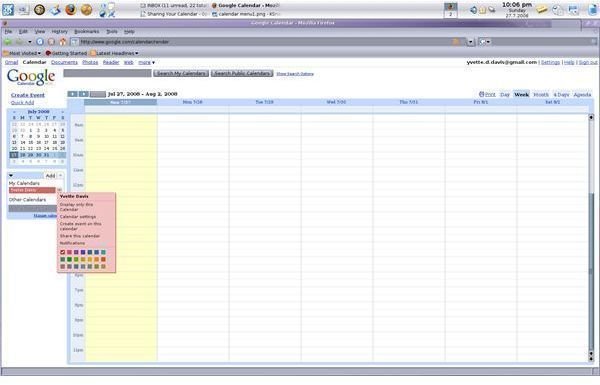 Sharing Your Calendar
It's a fact of life – your coworkers and family need to know your schedule, and you need to know theirs. Soccer games, band concerts, and meetings have taken over our lives and, sometimes it's tough to keep track of everyone and their activities. Calendar sharing makes it simple to keep on top of your game, and everyone else's.
To share your calendar
1. Log into your Google Calendar account.
2. On the left of the screen, in the calendar list box, click on the arrow next to the calendar you wish to share.
3. Click on the box Make this calendar public, to share this calendar with all Google Calendar users. Remember, anyone who uses Google Calendar can view calendars shared this way. If you'd like to share only your free/busy information with all Google Calendar users, click the box Share only myfree/busy information. (Hide details.)
4. To share your calendar only with specific people, like your spouse or employees, enter the person's email address in the text box.
5. Set Permission Settings by selecting from the drop down menu.
6. Click Add Person.
7. Save your settings and go back to your default calendar view.
To View a calendar that has been shared with you.
1. When someone shars a calendar with you directly, the shared calendar will appear in the calendar menu box under Other Calendars.
2. To hide the shared calendar, click on the calendar name in the calendar menu box.
3. Click on the calendar name again, to make the calendar visible.
4. Depending on the permissions given by the calendar owner, you may view appointments only, add appointments, or change calendar settings.
With calendar sharing, you never have to wonder who is available for meeting times again. All of your calendars, meetings, and schedules will be available from any web browser and Internet connection.
Images