Google Calendar: Setting up Notifications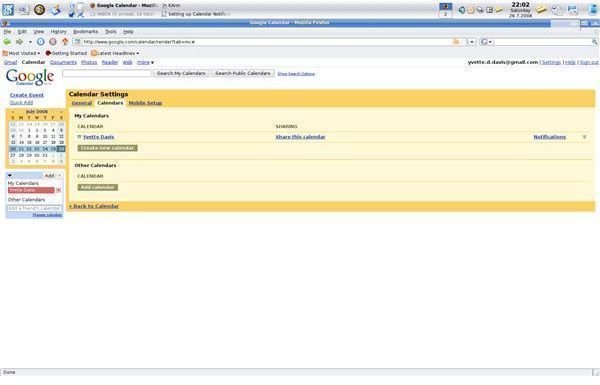 Setting Notifications
Complete customization of notifications makes Google Calendar a reminder system you can really count on.
Pre-set the type of reminder you receive for each calendar event, and when you receive it. How would you like to have your daily agenda delivered right to your inbox every day while you're getting ready for work? With Google Calendar, those kinds of auto notifications are simple.
1. Log into your Google Calendar account.
2. Click Settings, located at the top right of the window, next to your log in name.
3. Select the Calendars tab.
This page lists all your created calendars and all your added calendars.
4. Click Notifications for the calendar you wish to set notifications for.
Event Reminders
Set default reminder for every event or appointment you enter into Google Calendar. You can set up to 5 default reminders for each event.
From the drop down menu, select either Pop-up or Email for reminder delivery. If you have completed mobile phone set up, SMS will also be an option.
2. From the next drop down menu, select when you'd like the default reminder sent.
3.Click Add another reminder for each additional reminder you'd like to add.
Choose how you'd like to be notified
This section allows you specify how you want Google Calender to handle invitations, and your daily agenda.
1. Select either Email, SMS, or both, by clicking on the appropriate boxes.
2. Select Email, if you'd like your daily agenda sent to your inbox at 5am each morning.
Click Save to save your changes.
Set up your mobile phone to receive notifications
Click this link if you have not yet configured Google Calendar to talk to your mobile phone. When you click this link, you will be prompted to save your notification changes. When you complete the mobile phone set up, you will be brought back to the notification page.
That's all there is to it. You can never use the excuse "I forgot" for missing an appointment again.
Images