How to manage different email accounts from GMail? | Mail forwarding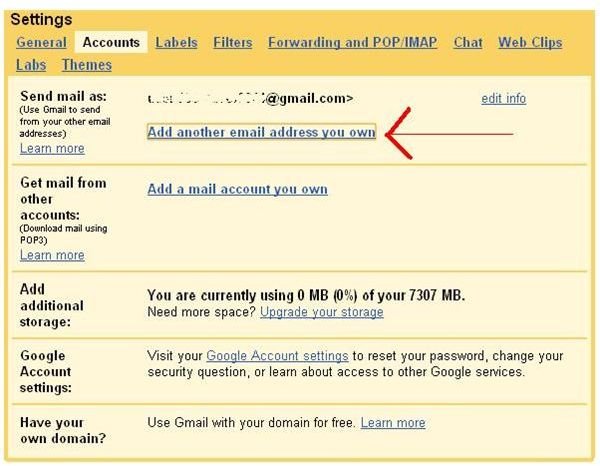 Getting Started on Account Management
Here, I am going to explain how to configure GMail to manage multiple email accounts. Before you read ahead, keep in mind that if your email system does not have an option of forwarding email, you should forget this possibility.
We will start off by putting a forwarding rule on all your other e-mail addresses. Most free mail services can easily be configured to forward emails to another address. Just look at the options or settings page of your email service to set the forwarding rule. Some email services allow you to do that and some not and if that is the case, mail can not be forwarded.
Gmail's Easy Import Settings
If you are using a hosted solution (for instance you own your domain), then the mail forwarding can be configured easily with cPanel or Plesk or any other control panel your provider employs. You can always contact the host's customer service, if you need help.
Open your GMail account and go to Settings -> Accounts and under Send mail as; click Add another email address you own. Now, enter your name and alternative email addresses. If you want your email recipients t
o reply to a different email address, click on Specify a different reply-to address and enter the address. Now, click on Next Step then on Send Verification. GMail will send to your alternative address the verification link and a code. Open your other account and either click on the verification link in the message or enter the confirmation code in the Accounts section of your GMail settings.
When you are done with it, all your mail will start arriving at your GMail account. So far, so good, it was pretty simple, but now we have to deal with a problem:
You have now set up other email accounts to forward emails to GMail but when you reply a message, which was actually addressed to your other email account, the sender will still be your GMail account and not the one where email was sent. This way you lose the authority of your account on email you replied and also you disclose an address you do not want emails to be directly sent to. Moreover, normally when people send an email to your address, they will expect a reply from the same address.
So, what you want is all emails you manage should be replied from the same address it was actually sent to:
To set it up, go to the Settings page then click on Accounts and select Reply from the same address the message was sent to. Now when you reply a message, GMail will use the same identity the e-mail was actually sent to.
Now you are done with all the settings, you can manage all your email from within GMail.