Creating a Slide Show with Picasa 3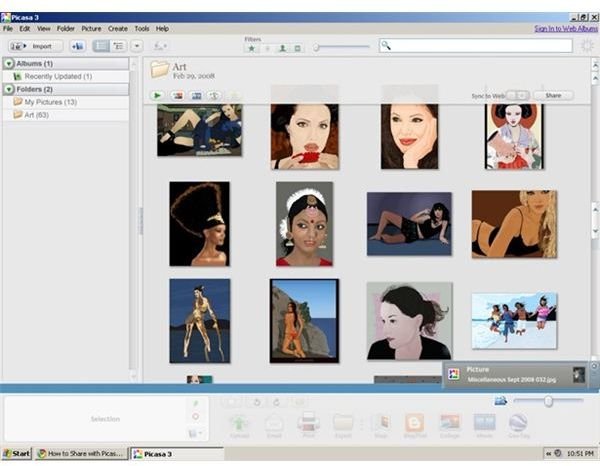 Google's picture management tool, Picasa 3, is so easy to use that it makes tedious tasks fun and quick. One of the most tedious tasks in picture management is creating a slide show. In the old days of creating slide shows, it took a lot of photo organizing and resizing, to make sure that the slide show wasn't too big to share with others. It was frustrating to spend two (or more) hours working on a project, just to find it was too large to send through email, or upload to a free photo sharing site.
Picasa 3 seeks to solve that problem with easy slide show creation. With Picasa 3, you can create a slide show that includes photos, music, captions, and even video. It's integration with Google makes Picasa 3 very intuitive. It seems to anticipate all scenarios. Let's get started with creating a slide show.
Download Picasa 3 from the Picasa website. It's a free download that doesn't take up much space on your hard drive. You'll also need to create a Google log in, if you don't already have a Google or Gmail account. After installation, Picasa will collect all the photos from your hard drive and organize by date and folder. You can then select the photos you'd like to use for the slide show by going directly to the folder and clicking on the image. If you'd like to select multiple images, click each image while holding the Ctrl button on your keyboard.
Click on the Create a Movie Presentation button. It is one of the six options available on the top left hand part of the folder screen. From this screen, you can add audio, change the transition style, and add captions. You can also add or delete images. After adding an image, it will no longer be available from the pool, which means you won't need to worry about repeating images. Click on the slide button (above the red X) to add new slides.
After you have created the slide show to your specification, save the movie by clicking the Create Movie button. By default, it is saved as a .wmv movie file. You can also upload the photo directly to YouTube, another Google company.
Screen Shots