Sharing Photos with Picasa 3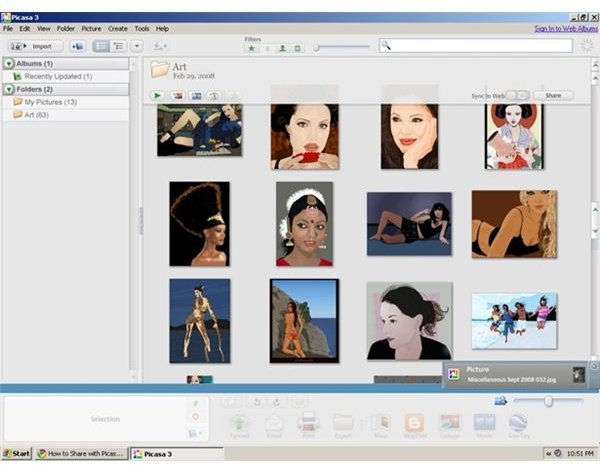 Picasa 3 from Google is a free software tool that allows you to edit and organize your photos with ease. To get started, simply download the desktop application from Picasa's homepage. After installation, you can begin to manage the images saved on your desktop. Picasa 3 will scan your entire hard drive for all images.
In the main Picasa screen, you will see thumbnails of your images. Select the image that you want to share. If you'd like to share multiple images, hold down the Ctrl key on your keyboard while selecting the images. Click the Share button on the top right-hand side of the main window. You will be prompted to sign in to your Web Albums with your Google account user name and password. If you already have a Google log in, you will not need to create a new identity for Picasa 3.
You will now be able to send your photos directly from your hard drive to any email address without having to open a Web browser the old-fashioned way. Immediately after your email is sent, you will also have the opportunity to view your images online from your Web Albums page. If you want to send these photos to others, you can also share directly from the Web Albums page.
Other ways to share the Web album is through linking. If you are in a chat, or your recipient does not allow HTML or images via email, you can choose to send the direct link. Click on the Link to this Album button for a direct link. Remember that the URL in your Web browser is not accessible to those who do not use your same Google user name.
Picasa 3 also allows you to post your images directly to your blog. Because Google owns and operates both Picasa 3 and Blogger, there is a seamless integration between the two. To post to your blog, go back to the main Picasa screen, select the photos that you'd like to upload to your blog, and click Blog This at the bottom of the screen. You will need to sign in to your Blogger account. After signing in, you can determine the layout of your photos, add text and publish the post.
Screenshots