Add a to-do list to Google Calendar.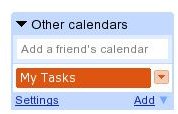 Overview
While Google Calendar has a number of great features, one thing that it's missing is an integrated to-do list. To be honest, it's a bit of a pain to jump between Google Calendar and either a desktop or online to-do list manager.
By combining Google Calendar with a nifty online tool called Remember the Milk (RTM), you can add an easy-to-use, yet unobtrusive to-do list to your Google Calendar.
Playing nicely together
To start off, you'll need an account with Remember the Milk. It only takes a minute or so to set up an account, and it's free. Log on to your RTM account, and then head over to this page.
You'll notice a Google Calendar button on the right of the page. Click that button. Google Calendar will load in a new browser tab or window (depending on the Web browser that you are using). If you haven't already done so, log on to Google Calendar. Once you've logged in, you'll be asked whether or not you want to subscribe to an external calendar. This isn't an error; Google treats RTM like another calendar. Click OK.
You'll notice two things. First, on the left side of the Google Calendar page a list titled Other calendars appears with the RTM calender in the list. If you want to change the name of the calendar to, for example, My Tasks, just click Settings. You can change the name of this calendar on the settings page.
Second, you'll see check marks below each day on your calendar. You click those check marks to view your tasks for that day.
Working with your tasks
Clicking the check marks doesn't just allow you to just view your tasks; you can also add tasks, mark them as complete or postpone them.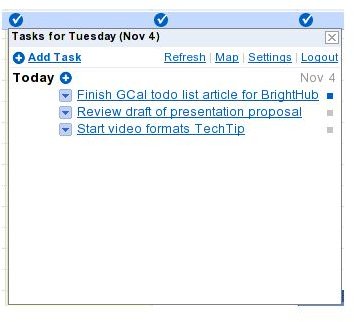 Click the check mark for the current day. You'll be asked for your RTM user name and password. Chances are that your to-do list will be blank. The list will only display the tasks that are due on a particular day or ones that are overdue.
To add a task, click Add Task. You can enter a name for the task like "Pick up flowers" as well as a priority (1 is highest, 3 is lowest) and a due date. Then, click the Add Task button to save it.
If you want to change a task, click the downward arrow beside it. You have three options:
When you want to hide the task list, just click anywhere in Google Calendar.
Conclusion
With Remember the Milk, you can add a very useful and overlooked feature to Google Calendar. It's easy to do and can help make you more productive.