Learn How to Add and Edit Speaker Notes with Google Presentations.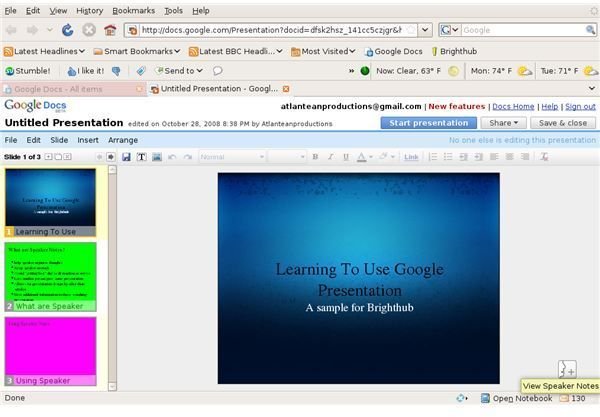 Speaker Notes
Good speaker notes are important for a variety of reasons. Many people get nervous when they're giving a presentation, and speaker notes can help keep you on track. If someone else has to give your presentation, speaker notes will help your replacement effectively lead the presentation. And, since Google Presentation allows you to go through the slide show without a leader, Speaker Notes enable users to lead themselves through any presentation.
Adding and Editing Speaker Notes
Adding and editing Speaker Notes to Google Presentations is simple.
Log into your Google Docs account.
Open the Presentation file that you wish to edit, or open a new presentation file.
Select the slide to which you want to add notes
Click the speaker icon on the lower right of the screen
A sidebar will open on the right side of the screen. Type your notes in this sidebar.
When you're finished, select the X at the top of the Notes sidebar to close the sidebar. Like all Google Docs documents, your notes will be saved automatically.
About Speakers Notes
Here are some basic tips for using notes during a presentation:
Avoid reading notes word for word. This will make your presentation sound stiff and rehearsed.
Make notes complete enough that someone else can give the presentation in your place.
If users will be viewing the presentation on their own, be sure notes are complete enough for them to follow.
Each slide has its own Speaker Notes sidebar so there's no need to put all your notes on one slide.
Consider using notes to give users additional information, not included on the slide.
If you're creating a slide photo album, Speaker Notes is the perfect place for information about the photo.
Notes should enhance and add to the presentation. Avoid repeating information from the slides in your notes.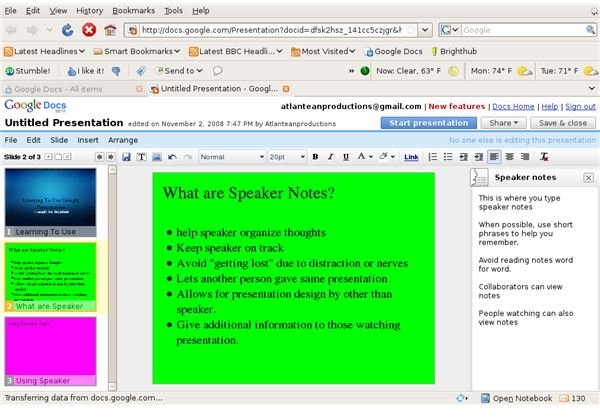 Presentation on presentation notes : https://docs.google.com/Presentation?id=dfsk2hsz_141cc5czjgr