Sharing Your Google Calendar Appointments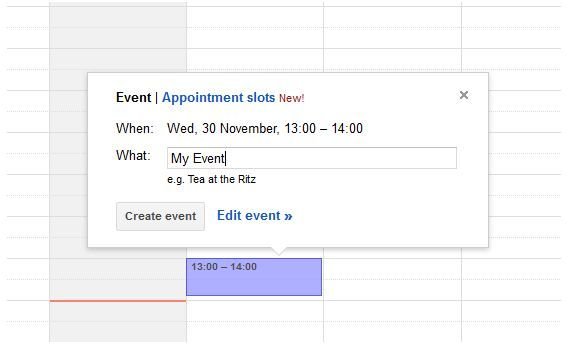 One of the perceived drawbacks of turning your back on Microsoft Office is the loss of functionality that will be experienced when Microsoft Outlook and Exchange server are no longer used. By dropping these in favor of an online solution such as Gmail, many individuals and businesses fear a loss of key functionality, such as instant email, contact syncing and calendar sharing.
Naturally, these fears are unfounded. Google offers great alternatives to Microsoft Office and Lotus Notes, making Gmail and Google Docs excellent alternatives to the traditional, almost de facto software provided by Microsoft.
Thanks to Google, the cloud computing benefits that are offered via Gmail and the associated Calendar application mean that it is actually very simple to share calendar appointments with other users!
Getting to Grips with Google Calendar
Available to anyone with a Google Mail/Gmail account, Google Calendar can be accessed from the Google menu bar once logged into any of their services. Simply clicking the Calendar link will display a standard single-day view, with alternatives listed across the top allowing you to switch between Day, Week, Month, 4 Days and Agenda view.
Adding a new appointment here is easily done, and is simply a matter of clicking into a time slot and adding the required information.
Once this has been done, it is just as simple to add others into the appointment, allowing you to share the details such as the date, time and location. Guests can be assigned permissions too, allowing them to adjust the appointment if necessary or even invite other guests. If you are familiar with Microsoft Outlook, a similar feature is available where delegates can be given access to view calendar appointments.
Adding & Sharing an Event
Using the Google Calendar to share appointments is very easy.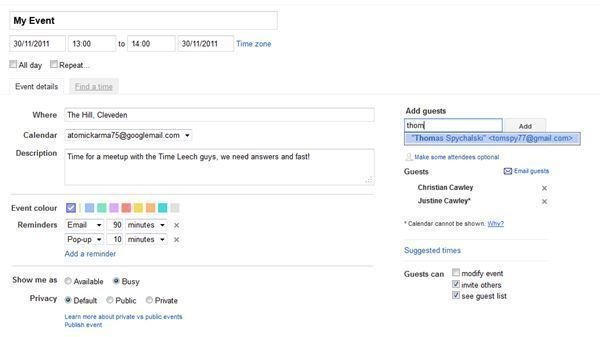 Begin by identifying the correct date and time slot using the correct view (see above) and left-click the timeslot or date. A popup box will appear asking you to assign a name for the event or appointment, so assign a name and click Edit event to continue. Don't worry if you don't have quite the right timeslot as this can be edited later.
In the next screen, you will be able to make some changes to the date and time, as well as changing the time zone if necessary. An All-day appointment can be set if required, while the Repeat… option is provided for users who wish to make the event a regular thing.
After adding details such as the location and a description – as well, perhaps, as assigning a color for the event so that it is easily spotted on your calendar – turn your attention to the Add Guests field on the right-hand side. Here you can add people in your address book by typing their name and identifying them in the resulting list, or even invite completely new people, based on their email address.
Below this, you will see options that allow guests to modify event, invite others and see guest list. None of these features or the changes you have made yet will come into effect until you click the Save button at the top of the screen, so make sure you have everything entered correctly as clicking save will send the invites out.
Advanced Calendar Appointment Tools
With invites sent out, your guests will then be able to access your Google Calendar appointment via the link in the invite email.
In addition to the settings listed above, you can revisit the Edit event screen to configure appointments to show you as being Available or Busy and add various reminders.
Another really good function is provided that enables you to change the owner of a particular appointment. By doing this you can delegate responsibility for the appointment to one of your colleagues, allowing them to change the date and time and details of the event. This option is available via the More Actions > Change Owner command. Also available in the More Actions menu is the Duplicate Event command, which allows you to copy the complete appointment as it is at that moment and create a duplicate.
Sharing the Full Calendar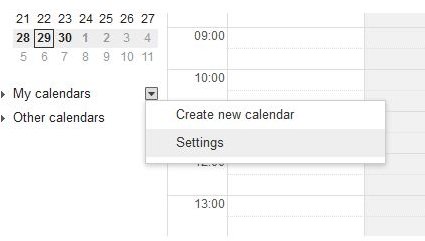 If all of this seems good, but not quite enough, don't worry – Google Calendar also allows you to share the entire calendar. This is done from the main calendar view, via the My calendars > Settings option, where you will find your calendar name listed (in the form of your Google email address).
Using the Share this calendar button you can add people by email address in the Share with specific people area, and once entered the people you want to assign access to can have their permissions altered such as restricting them to only being able to see your calendar or allowing full changes and sharing with third parties.
As you can see, Google Calendar is flexible and usable, allowing the user to enjoy calendar and appointment sharing features and resulting advantages as those found in Microsoft Outlook.
References
Screenshots provided by author.