Google to Index Facebook and Other Comments: What This Means for Web Users and Masters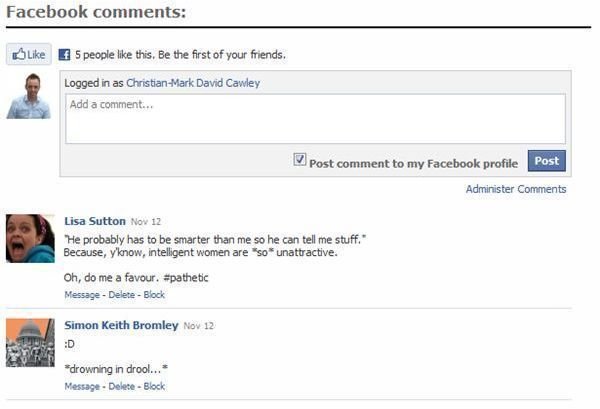 Google Is Playing Catch-up
Over the next few weeks and months, Google will be introducing a new search feature, one that returns results gathered from pages that have comments powered by a Facebook plugin. In addition, comments from Disqus and Intense Debate will also be featured in search results.
But doesn't Google already list comments in its search results?
Indeed it does, but not those from Facebook or the other providers. Websites that use these services must install plugins to enjoy fast commenting that is stored on a remote server, thereby reducing the load on the website's host server. You've probably come across such websites - they're the ones that offer you the ability to comment on a news posting using your Facebook account, and the resulting post can often be viewed by your friends and family.
Already Google features comments from websites powered by such software as WordPress and Movable Type in its search results. Often the comments add some useful extra facts to the original article and they have become an integral part of search engine results, with websites such as Yahoo! Answers doing particularly well.
Why Google Previously Ignored Comments
The difference with Facebook, Disqus and Intense Debate is that they store the comments remotely, away from the host website, and use JavaScript to display the comments on the web page. Typically this relies on an AJAX control detecting when the user has scrolled down to the comments, thereby reducing load on the comment server by limiting the amount of time that the comments are displayed for, as many users may not read the whole article.
It is an elegant solution to the issue of hosting comments, one which Google has spent a long time ignoring until now.
Anyone who has left comments using Facebook will know that this is a popular way of engaging with a website. Whereas most websites with comments previously required users to sign up for an account before allowing them to contribute to the discussion generated by the post, Facebook and the other services require a single sign-up (and most people already have a Facebook account) which means that commenting is made much more free and easy!
Google's problems with AJAX have been blamed by many commentators for this problem; in the past Google has suggested ways in which the web could be rebuilt without this type of scripting, simply because it causes the search giant some technical issues. At last Google seems to be getting over these problems!
Comments Are No Longer Private
One drawback of Google's decision to begin indexing comments created with Facebook, Discus and Intense Debate plugins is that your reader's thoughts on a particular subject on a particular website will now be available in Google's massive archive.
If comments were ever really private or not isn't the issue here. Rather, users might think twice about the type of comment they leave if they're aware that Google is indexing their responses. This could, of course, work to the greater benefit of the World Wide Web, with webmasters now able to safely encourage a more polite community with better integration. Certainly criticizing a particular company or service in the comments section of a popular website using one of these commenting tools isn't a good idea if later on you apply for a job with said company or service and the hiring manager does a quick search to find out what you think about them…
Better still, as users have already agreed to a whole host of terms and conditions upon signing up for their chosen comment service, webmasters need not feel responsible for Google recording comments that can then be displayed in search results.
New Search Content, New Search Terms!
With a new set of data to present in its search results, Google has also been developing new tools that enable users to browse the web for specific comments. One of these is the "commenter name" search term, which when used alongside someone's name will display all comments that they have made.
Naturally this will only work with the correct spelling of the person's name. With Facebook comments this should be easy, but will open up the minefield of multiple people having the same name. Meanwhile on services such as Discus where a username can be employed, spelling of this handle must be accurate or else the wrong (or no) information will be returned in the search engine results page.
Syntax for the search on commenter name is as follows:
commenter name: [COMMENTER_NAME]
So to search for comments left by "Eric Smith" you would enter the following into the Google search page:
commenter name: eric smith
The results of the search may be limited at first; Google isn't expected to be performing much retro-indexing, rather beginning the project with comments that are yet to be posted…
References