What's Happening to Google Notebook and Desktop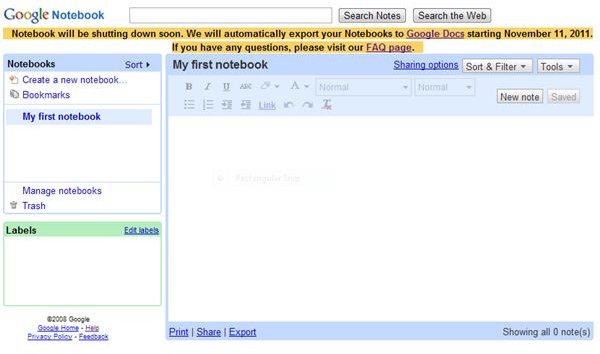 Google Notebook
Google announced their intention to shut down Google Notebook in September 2011. This was not entirely surprising, given that Google ceased active development on Google Notebook over two years earlier. Google allowed users to continue using Google Notebook after ceasing development, but Google wasn't going to continue hosting an inactive Web application forever.
If you had a Google Notebook account, your Notebook data is safe. Google automatically exported your Google Notebook data to your Google Docs account. You can sign in to Google Docs with the same Google account you used for Google Notebook to view your data. Each notebook is its own, separate text document in Google Docs. You can continue using Google Docs to manage your notes or try an alternative note application.
Google Notebook Alternatives
Google recommends you switch to Google Docs, although it may not be ideal for your notes. Google Docs has an interface designed more for working with separate documents – notably, each document opens in its own browser tab while Google Notebook opened notebooks on the same page. You can use an alternative application if Google Docs does not provide your ideal note-taking experience. You can copy and paste your existing notes from Notebook into the other application.
Zoho Notebook is part of Zoho's suite of Web apps. It uses the same "notebook" concept that Google Notebook used and has a somewhat similar interface.
Evernote is an extremely popular note-taking application with desktop applications and smartphone apps, as well as the standard Web app. It provides much more features than Google Notebook did.
WorkFlowy is a Web-based organization tool used by Google's own Matt Cutts. WorkFlowy is a minimal note-taking app that eschews features to provide a tight, focused experience.
Google Desktop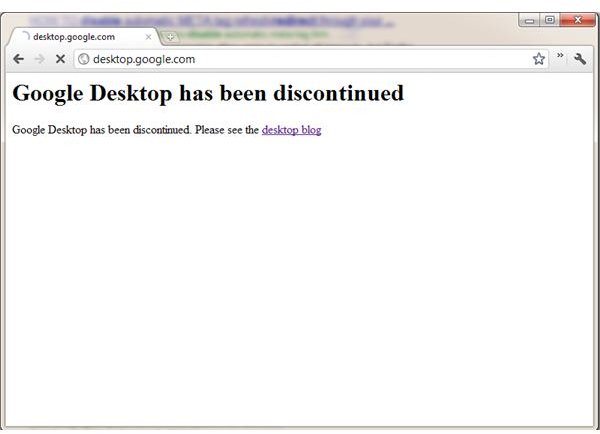 Google Desktop was also discontinued on September 14, 2011. Google no longer offers an installer for Google Desktop and will not update existing Google Desktop installations. If you already have Google Desktop installed on your computer, you should uninstall it from the Windows control panel and use a different desktop search application instead. Google Desktop may contain security vulnerabilities or other bugs, and these problems will never be fixed.
Google Desktop brought desktop search to operating systems without strong desktop search capabilities, such as Windows XP. With the release of newer operating systems containing integrated desktop search features, Google Desktop is no longer as relevant as it once was. With Windows Search on Windows Vista and newer versions of Windows, Spotlight on Mac OS X and a variety of applications including Tracker, Beagle and Strigi on Linux, operating systems already include many of Google Desktop's best features.
The shift from local desktop applications to the cloud, or Web-based applications, also made Desktop less relevant. Google wants you searching your emails, documents and other files from within Google's Web apps and other online applications.
Google Desktop Alternatives
Some of the best alternatives to Google Desktop may already be included with your operating system. If you are using a recent operating system with an integrated desktop search feature, give your operating system's search feature a try. Older operating systems may have contained search features that were slow and unreliable, but operating systems have improved.
If you are using an older operating system or just aren't happy with your operating system's included search feature, you can use an alternative, third-party program.
Copernic Desktop Search is a popular desktop search application for Windows. Copernic indexes the files on your system and can search for text inside of them. Like Google Desktop, it also runs on Windows XP. The home version is free.
Everything is a cult favorite. Everything indexes the files on your system and provides a minimal interface that can search for them by file name. Everything cannot search for text inside files, so it may be too minimal for some users.
Agent Ransack is, perhaps, the opposite of Everything. Agent Ransack can search for text inside files on your computer, but it cannot index them, so searches are slower. On the positive side, this means that Agent Ransack isn't constantly updating the index in the background.
Other Closures
Google discontinued eight other products at the same time it ended Google Notebook and Desktop. The most user-visible discontinued product was probably the Google Pack, a download bundle containing desktop software for Windows. Google Pack contained Google applications such as Google Chrome, Google Earth and Picasa along with popular programs like Adobe Reader and Skype and antivirus programs.
The same reasoning that applied to Google Desktop also applied to the Google Pack – with a decreased focus on desktop software and an increased focus on Web apps, Google is shifting away from desktop applications. All software included with the Google Pack is still available for download on the Google website, but the Google Pack itself is no more.
Google also discontinued Aardvark, a social search engine that it bought for $50 million in 2010, and reassigned most of its developers to Google+. The other discontinued products are ones most users have never heard of: Fast Flip, Google Maps API for Flash, Google Web Security, Image Labeler, Sidewiki and Subscribed Links. Many of the features contained in these apps made it into other products.
References