Adding Video With Google Presentations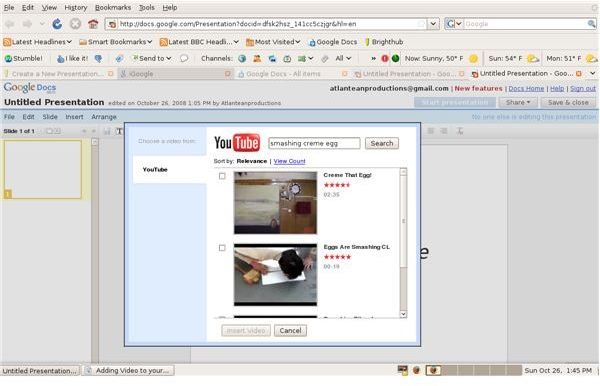 Why Use Video?
Adding video to your slide presentations allows you to share information, and offer a personal touch not available with stills alone. By using video, you can offer your audience a demonstration of the information presented, show live results of an event, or even create your own personalized video greeting.
By using You Tube, you can find videos relevant to just about every subject for your Google Presentation. Or, if you prefer, you can create your own video and upload it to You Tube for inclusion in your Presentation.
How To Add Video
Adding video to your Presentation isn't difficult. If you're using a video you created, you first need to upload it to your You Tube account. Then follow the directions below to add your uploaded video to your Google Presentation.
Log into your Google Docs account. If you don't have a Google Docs account read Google Docs: Creating an Account.
Open the Presentation you're working with, or create a new one. For more information, read Google Docs: Creating a New Presentation.
Select the slide to which you want to add the video.
From the Menu, select Insert - > Video.
In the You Tube window which opens, type the name of the video you'd like to use in the search box. If you're unsure of the exact name of the video, you can enter part of the name, or just a general subject. Click Search.
When you find the video you'd like to use, select Insert Video.
Your selected video will be embedded in the selected slide.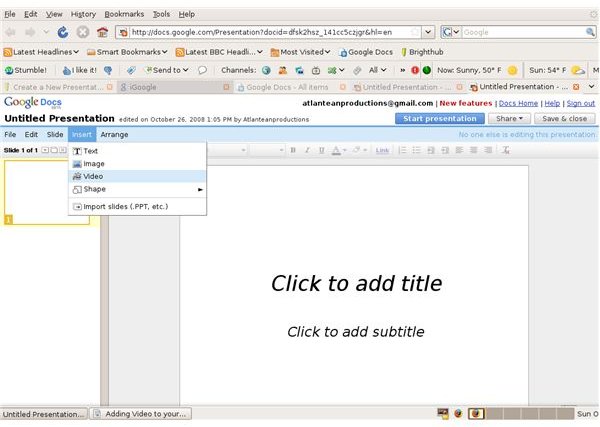 Fine Tuning Your Video
Use the handles to adjust the video size.
To change the location of the video within the slide, position your mouse pointer over the video, left-click and move the video as desired.
To play your video, click the play arrow in the lower left corner of the video.
When you're finished, either add a new slide and continue creating your presentation, or click Save & Close.