Create Custom Searches for Business News from Google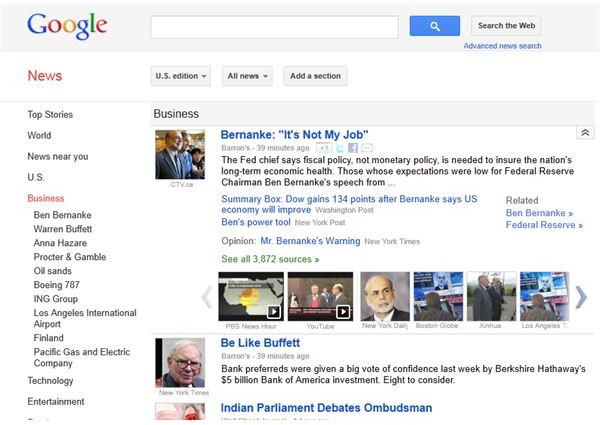 Whether you're in the cut and thrust world of share price trading or you're simply a student with an interest in the financial markets and business news in general, you are probably aware that there are a number of ways in which you can stay up to date with the latest prices, profit warnings and CEO bonuses.
While you might have a subscription to data from a particular service (such as the Wall Street Times) you may also find that the power of Google to collate and filter news on any number of subjects is a useful additional tool that you can use to gain an advantage or simply satisfy yourself with the knowledge that you won't miss any vital business news.
Google News is an incredibly useful and versatile service that allows the user to find news on pretty much any subject and have the information displayed in a custom Google page or in an email. Better still, keyword-based news searches in Google News can be viewed as RSS feeds, ideal for viewing in an RSS reader app on a computer, mobile phone or tablet as well as the Google Reader app.
The following steps don't just apply to financial and business news – anything you can think of that might have been reported over the previous few weeks can be found with Google News.
Taking Advantage of Google News
To use Google News to find the information you are looking for, you will need to begin by visiting news.google.com. Here you will find a page divided up into Top Stories, World, Technology and Business news, among other topics, and you can skip up and down the list by simply scrolling the mouse.
If you jump down the list to take a look at the Business section, you will find just a few items listed. This is based on the importance of the news item and its popularity elsewhere, as determined by Google news, but by clicking the Business heading or the link on the left-hand menu you can see a greater selection of business news items. The initial list of items may seem modest, but returning to the left-hand menu you will see that a series of sub-categories for business news are now listed and clicking these will reveal further news items.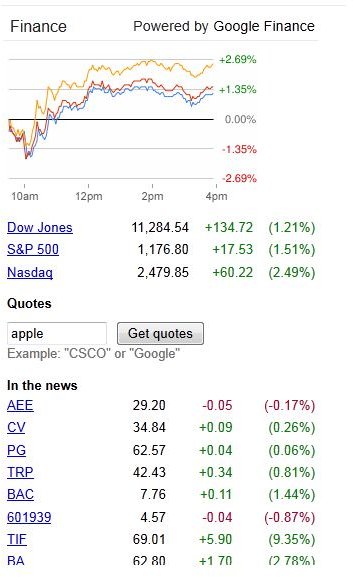 Also in the Business section of Google News, you will spot a summary of the current performance of the major financial markets in the USA, with Dow Jones, S&P 500 and Nasdaq all listed. Popular companies that are in the news are also listed with their most recent trading prices, and you can use the Get quotes button to quickly find a share price for pretty much any company stock that you can think of.
This information can be used as you see fit, and you might even add the full business section as a favorite bookmark in your browser. However, don't do that just yet as there is much more that Google News can offer to give you the best news results.
Creating Custom News Searches with Google
Most importantly, Google search can be used to find news items that you don't even know about. This is done with custom news sections and you can get started by selecting the Add a section button. Here you have a choice of expanding the Business category on the left-hand side and choosing from different types of business and financial news, or by clicking the Create a custom section button to create a news search tailored to your specific requirements.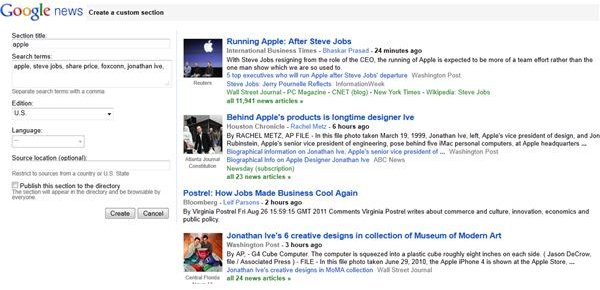 In the next screen you can name the news section and add keywords which will be used to find articles specific to your current interest; for instance, if you're interested in how Apple's share price might survive the departure of Steve Jobs as CEO, you might name the section "apple" and choose the keywords:
apple, steve jobs, share price, foxconn,
You can also add a specific search source location, such as a country or US state, as well as choose a different international edition of Google News. This might be useful for finding relevant information from the UK or Australia, for instance.
With your keywords added and your edition selected, click Create. When you next open the Google News page, your new custom section will be listed.
You might feel that this section is positioned poorly on the page. Don't worry – simply click the Personalize Google News button to open a small console where you can rearrange the order of the news sections by dragging each section heading in the list.
Using Google News Advanced Search
There is much more to Google News than creating custom news searches too. You can combine what you've learned above with some advanced search tools, and with Google's unique search engine strength you can find information on just about any subject you can think of.
The first thing you might try is the Advanced Search option, which is linked to just below the Search the web button on the Google News page. This offers considerable searching options, from choosing the source website and date range to specifying exact words and phrases that will find the news report you are looking for.
How to Use the Google News Search RSS Feed with iGoogle
Using the previous method you can create any number of news searches, and even discard the default news items that are provided by Google in favor of your own tailor-made news.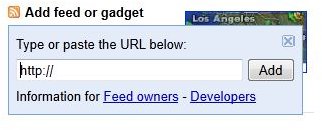 However the Google News page doesn't offer the best way of arranging your custom news items, particularly if you have multiple sources and searches. For a better interface you should try iGoogle, which is available to anyone with a Google account.
Using iGoogle you can create custom news searches based on keywords and RSS feeds and position them within the browser window in order of preference or importance, the choice is yours.
You can get started with this by opening www.igoogle.com and if you haven't already, sign in to Google. The iGoogle page – which can be set as your Google home page – is populated by various browser gadgets, web-based applications that can be used for all manner of purposes from displaying the weather to Gmail and even allowing you to play games. Using the Add gadgets button in the top-right corner of the window you can begin the process of adding custom news search gadgets.
The Add feed or gadget button can be found on the left-hand side of the screen. With an RSS feed copied to your clipboard, click this link and paste the URL of the feed into the field and click Add.
Get Keyword-based Email Updates from Google
Obviously the methods shown so far are ideal for use on a desktop computer or tablet, but not so useful for anyone on the move.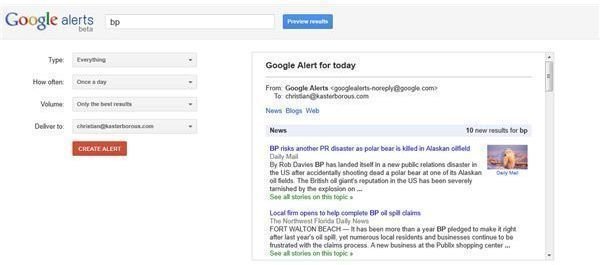 Fortunately, Google provides an email alert service for news updates which can be used to get around this problem. This service uses your custom news searches to scan the web and Google News for any relevant information which is then emailed to your preferred email account. These messages might include just one link or a digest of several, depending on how you configure it.
Note that this is a particularly powerful tool. Custom email updates can be used to find mentions of specific words and phrases around the web and in Google News, and can therefore be used to considerable advantage.
To get started with Google Alerts, visit www.google.com/alerts and complete the drop down form, selecting your preferred content Type (News, Blogs, Video, Discussions or Everything), How often you want the alerts to be sent (As-it-happens, Once a day or Once a week), the Volume of the results (allowing you to choose between All results or Only the best results) and the email address that you want the results to be sent to.
Once this has done, you can use the search field at the top of the page to enter your alert keyword and view a preview of the results. When you're happy with the type of content that will be emailed to you as an alert, click the Create Alert button; it depends on the alert keyword, but in most cases it shouldn't be long before you're receiving messages from Google with links to useful news items!
The Power of Google Is Your Friend
You might have seen the phrase "Google is your friend" mentioned online from time to time; it basically encourages people to use the search engine rather than asking banal questions.
However, Google really is your friend, offering an unparalleled ability to customize search to find the information that matters to you and display it in a way that can suits you, regardless of the type of computer you are using.
With the advanced search features you can quickly find mentions of specific phrases on specific websites. Using the custom news tools you can stay in touch with all of the latest developments in the business and financial world, and with email updates Google enables you to find mentions of specific keywords from around the web.
This great set of tools is ideal for finding not just business news on Google but indeed any type of news-related information that comes to mind!
References
Screenshot by author.
Author's own experience.