What Happens to Deleted Flickr User Accounts and Photos?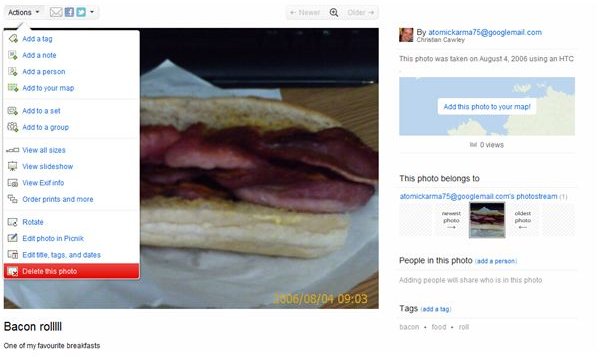 The popular online photo repository, gallery and editing service Flickr is a great choice if you're looking for somewhere to store your pictures, and make them available for viewing by family and friends.
However, what if you have already "been there, done that"? If you have found an alternative to Flickr (you might have launched your own photo blog with Blogger, for instance) then you might be keen to completely remove your presence from the service, something that might sound easier than it is in practice.
As many Flickr users know, deletion is one of those aspects of using the service that you just get used to; like Facebook account cancellations, it isn't something that happens straight away. Instead, deleting accounts and photos is a drawn-out process that requires various steps and stages to be completed in order for safe and secure deletion to occur.
Deleting Photos from Flickr
If you have found that you're getting tired of a particular photo, or simply want to take advantage of what limited space you have on your Flickr account, then deletion is a popular option.
In case you aren't aware, there are two types of account available on Flickr:
Free: here, users can upload a maximum of 300 MB per month, and if they have over 200 images in their photo stream, users will only be able to view the most recent 200, with the older snaps archived.
Pro: unlimited uploading of photos, storage and bandwidth, although once a pro account expires Flickr will revert it to a free account.
Photos can be deleted from Flickr in the following way:
Open the image, and in the Actions menu find the Delete this photo option. Confirm this choice by clicking the Delete Photo button, and a few moments later the image will be removed.
In this situation, images are permanently deleted. However, you will find that the situation is slightly different when it comes to deleting a Flickr account and the images within.
Cancelling Flickr and Cooling-off Periods
We all have user account details knocking around our email inboxes for all manner of online services, and most of them we rarely visit a second time. Flickr is often different, however, most notably because it offers a service that has yet to be bettered.
After all, while Facebook might offer a nice immediacy to images that are uploaded to your account, there is always a time for stepping back and enjoying photos on their own without the urge to tag friends and family. While tagging is available in Flickr it isn't as vital as it is on Facebook to attract attention; the Flickr account is yours, whereas you might feel that your Facebook account belongs to your friends as much as it does you.
This difference between the services and the nature of photos on Flickr seems to be the driving force behind an announcement in May 2011 that Flickr would be changing the way that they deal with deleted accounts.
Whereas previously accounts would be completely discarded once the deletion request was made, a 90 day cooling off period would now be in place, allowing deleted Flickr users and their photos to be reinstated.
Cancelling and Deleting a Flickr Account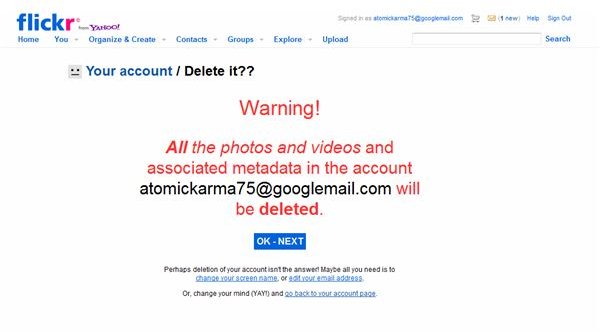 Deleting a Flickr account is remarkably simple compared to the processes of other online services. All you need to do is head to You > Your Account and click Delete your Flickr account. Clicking this link will take you to a new screen where you should click OK – NEXT to confirm the action, before being requested to verify your account.
Following any further prompts should result in the account being deleted. This includes photos, metadata, comments and any other information being discarded, but if you change your mind later on you can take advantage of the 90 day cooling off period and restore your account.
After all, with 200 images in your photo stream at any single time you might quite easily forget that a much-loved or rare snap only exists on your Flickr account. As such, you might find that the account restore procedure proves to be absolutely vital in finding that long-forgotten photo.
Restoring an account, meanwhile, is a little more drawn out, and requires you to email Flickr. This is best done using their Help/Deleted account form, which explains the process and provides a space for you to send the required information to the Flickr administration team. They will respond to you quite quickly, and keep you informed during the account and data restoration process.
References
Flickr Help/Deleted account form
Your photos and data on Flickr, https://blog.flickr.net/en/2011/05/26/your-photos-and-data-on-flickr/
Screenshots provided by author.