The Features of Google Plus: Circles, Hangouts, Huddles, Sparks, Instant Upload

That Black Bar Explained
During the last week of June, the swirl of questions about what Google might be up to in the social networking scene finally received a concrete answer with the launch of Google Plus. Following on from the failure of Buzz to recover from its early indiscretions with user privacy and Orkut's lack of traction in the North American and European markets, Google has taken a very different approach in what has the potential to be the first real challenger to the dominance of Facebook.
Google+ Features
Google+, at first glance, appears to have all the prerequisites of a successful social networking site. Central to the page is the by-now ubiquitous news feed, with the ability to share status updates and content and comment on posts. Google also incorporates its +1 button extensively into the interface, allowing you to +1 both posts and responses.
For your interests Google+ offers the evocatively named Sparks; feeds of content relating to specific areas of interest that you can sign up to follow. For example, by subscribing to the cycling Spark you can read and watch up-to-the minute news on the Tour de France, gear reviews from bloggers, and training tips from the pros. Content is filtered to various Sparks via an algorithm, resulting in focused threads with a decent selection of different content (I found that the Sparks algo is too broad in many cases: I had to remove the "Yoga" spark when a celebrity was photographed leaving a yoga class and this content took over it's stream. Sparks are a bit like adding results from Google News about a keyword to your stream: it's a very mixed bag. -Ed.)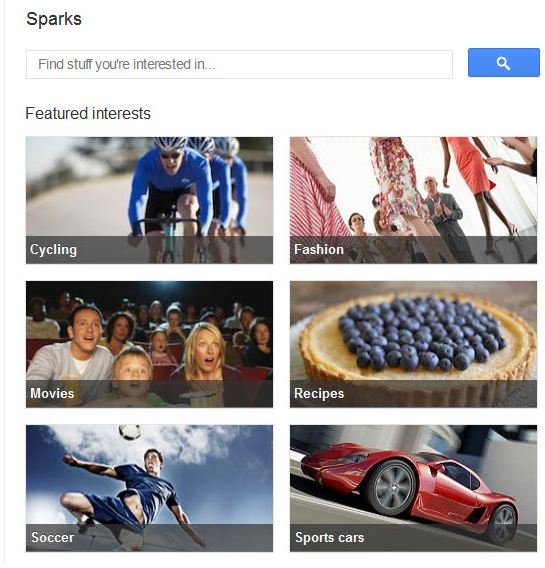 Google+ has hung some impressive bells and whistles on the chat experience with Hangouts, where you can gather with up to 10 friends to share a webcam chat. Thanks to an intuitive interface and very smooth switching between speakers, Hangouts have been garnering some fairly extensive praise (1). Once the Google voice and video plugins are installed, all a user needs to do is set their status to "Live" and any friends who are online can join them in a Hangout.
For those without a webcam, Huddles offer a more traditional chat experience. Huddles also comes with an Android app, bringing the group chat experience to your smartphone. A second Android app, Instant Upload, also allows you to share photos and videos direct to Google+ with your smartphone, using predefined default settings to avoid accidental over-sharing. An iPhone app is reportedly awaiting Apple's approval (2)
Privacy and Sharing
Most of the primary features of Google+ are fairly standard fare for social networking sites, albeit with a clean and fresh look. However, where Google+ really shines is in the privacy and sharing options. You can import contacts with ease from Hotmail or Yahoo, and then a simple drag or drop places them in what Google has named Circles: work, friends, acquaintances, family. It takes a single click to create a new circle, and from then on you can choose to share your posted content as selectively as you wish. Each time you make a post or upload a photo, Google+ checks in to see how widely you want to share that item.

Your profile, too, places privacy at the forefront: as you add information Google checks to see exactly who is allowed to see it, and the default option reflects the perceived sensitivity of the information (for example, "Bragging Rights" defaults to "Anyone on the Web", whereas "Contact Information" defaults to "Circles.").
A Promising Start
Following the damp squibs of social networking and collaboration efforts such as Buzz and Wave, Google went very quiet about its plans for any future venture into the social networking space. Behind the scenes, though, it was a hive of activity with more than a year spent into the development of Google+ (3). With Plus, Google has a well-thought out product that incorporates all the key features of a social networking site with a few new additions and features that really make it stand out from the crowd. Whether that will be enough to start a mass exodus from Facebook remains to be seen (especially given that Google+ is still in such limited field testing, with non-users clamouring for invites and users waiting patiently for sparsely-populated Circles to start filling with friends), but the potential is certainly there.
References
Reel SEO: [Video Is a Huge Part of the Google Plus Social Network](/tools/Video Is A Huge Part Of The Google Plus Social Network)

Screenshots by author.