Best Obituary Search Engine Recommendations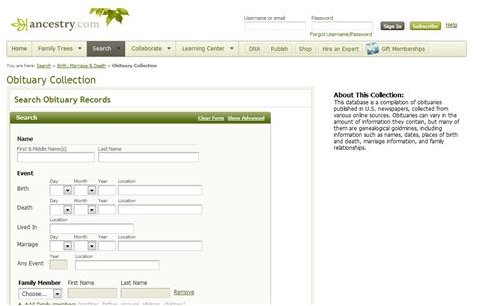 If you're looking for details about recent or historical deaths for a research project, one of the first places you would probably check is a local library, where such information is regularly found. If you don't have success with this, however, the next step would be to look online. If the deceased was someone of note or famous in some way, they might have warranted an entry on an online encyclopedia; however, in most cases you will need the services of an obituary search engine.
Such tools are becoming increasingly popular on the web, thanks largely to the upsurge of interest in genealogy and family trees. Indeed, finding out more details about an individual based on the facts in an obituary is a great way of feeding the need for dates and data when carrying out such a project.
Of course, your interest in a particular late individual might be more casual; they might have been a friend or acquaintance at one time, or you might have admired their work.
Let's take a look at some of the top tools for finding obituaries on the web.
Newspaper Obituaries
Whether you're researching a family tree or simply interested in a particular person for other reasons, the first place you will probably want to look to find an obituary is in a newspaper. National and regional dailies and weekly publications regularly feature death announcements, and for people with recognized community achievement, longer, more detailed obituaries.
As these notices are published in newspapers, they are recorded in various ways, often on the website of the newspaper concerned. This is the first place that you should look, focusing first on publications that are local and regional to the deceased's residence, and also those located close to the birthplace. Later, if the results are good, you can check national newspaper websites.
Obituaries printed in newspapers are often indexed elsewhere for convenience. Various websites provide this service, notably Ancestry.com, the popular genealogy site which features a searchable database of obituaries printed in US newspapers. A similar service can be found at www.ancestorhunt.com/obituary_search_engines, while RootsWeb's Obituary Daily Times is updated regularly with obituary notices from around the world.
Obituary Archives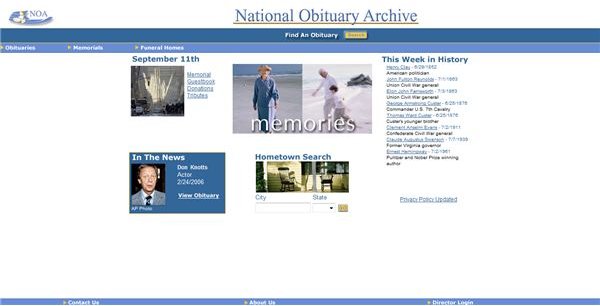 Most of the newspaper obituary indexes will link to information concerning the name of the individual, birth and death date, location and the issue of the newspaper in which the obituary notice was published; the idea is that you then follow this up by checking the relevant website or contacting the publication.
However, there are some websites which list full obituaries, with search engines built in that can help you find the individual concerned. The obituaries might then list information such as the place of death, a bit of background about the deceased's life and role in the community, as well as their family.
A good place to start finding archived obituaries is www.nationalobituaryarchive.com, where all you need to know is the name and state where the deceased resided to find some pretty impressive and useful results.
General Tribute Websites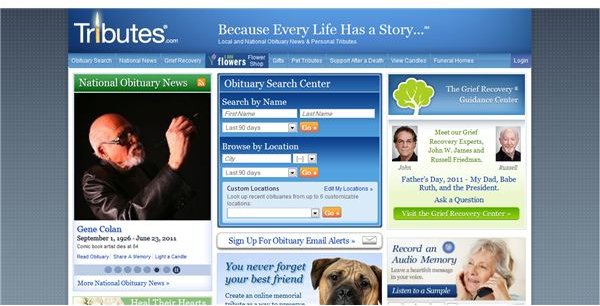 You may have heard recently that Facebook will archive pages belonging to people who have died, allowing their friends and family to have a central tribute page to the individual, but this idea isn't new.
One website, www.tributes.com, has been offering users the ability to create and publish tributes to their loved ones for several years, and the site also includes an obituary search engine as well as a funeral home finder.
In addition, the site also has a strong and active community, where you might find support and reassurance about dealing with grief as well as various other services such as flower purchase services and thought artifacts.
Obituaries for Notable People
Not everyone leads a quiet life – some are fortunate enough to be recognized for their efforts in business, sport, the military, local government and politics, fundraising and other vocational areas. While newspapers will often provide listings for these popular people, you might also consider using Google to find them listed online in other websites. Additionally, encyclopedias like Wikipedia can, if correctly sourced, lead to you finding what you're looking for in other areas of the Internet, such as Usenet (largely accessed via Google Groups), for instance.
Wikipedia will also list offline books; for instance, an obituary for an athlete may have been listed in a pre-World Wide Web sports journal, which the Wikipedia page lists as a source. It is also worth considering that radio and TV stations might also have material concerning the deaths of notable people, so you should get in touch with these; usually in the case of an obituary they will send a copy of the report for no more than a nominal fee.
References
Author's own experience.
Screenshots provided by author.