Set Up and Use the Google Desktop Client for the Google Calendar App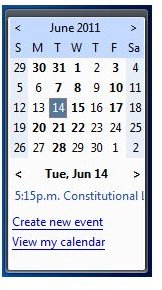 Google's Services Straight on Your Desktop
We have previously discussed how to configure alerts in Google Desktop, the Windows version that is. This time we will take it one step further and explain how to set up and use the Desktop client with Google Apps Calendar. Not only do we explain how to use your gadgets but also how to utilize your calendar settings properly, but also what Google Calendar gadgets are available and which one you will want to get. Also, find out how to set up Google Desktop properly in its entirety.
Getting Google Desktop on Your Windows Computer
Google desktop is only really of any substantial value on a Windows machine, where it installs a multifunctional sidebar that can be extended with all sorts of native and third-party gadgets. If you are interested and want to install the software, you need to go through the following steps:
Open an Internet browser and surf to desktop.google.com. Here you will find a link to the download that will be in the language of the country from which you are browsing. If you want to change the language, you will have to select it from the top right dropdown menu prior to downloading the installation file. Note that you are downloading Google desktop, which contains both 'Desktop search' and 'Sidebar with gadgets'.
You will download a file that is approximately 2 MB in size. Double click on the .exe file to start installation. During the installation, you will be able to preselect which features you want to include right off the bat. You can choose to opt for Enhanced Search, a starting package of gadgets, and additional settings. Once your choice is made, select 'Done' and your Google desktop sidebar will appear on the right side of your screen straight away.
Congratulations, you have now installed the basic setup of Google toolbar. Continue reading to find out how to set up Google Calendar for Desktop in Windows 7.
Gadget Time: Setting Up Google Calendar to Work in Desktop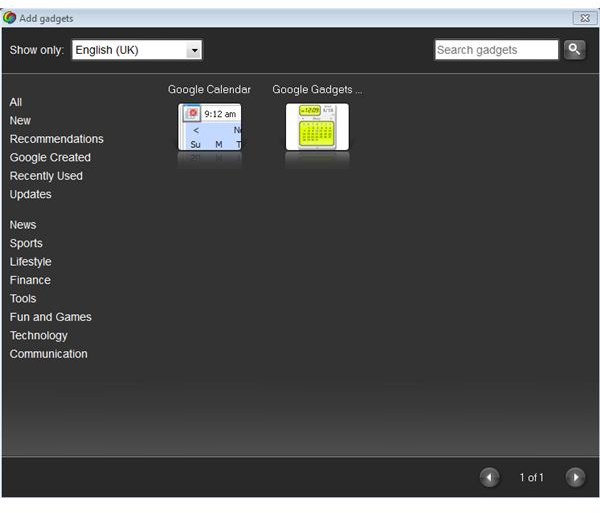 So now that you have freshly installed your Google desktop software, it is time to customize is to your liking. Here we will use Google Calendar as an example of a much-used Google app that can be accessed straight from your desktop side bar. By default, it is not installed or set up and therefore there are a few steps to undertake:
To set up any new gadget select the 'plus' button on the top of your sidebar. You will be taken to the new gadget 'market' where you will find a rich vault of all kinds of handy additions.

In the search bar, located at the top right of the pop-up windows, type "Calendar." Two results will come up, namely 'Google Calendar' and 'Google Gadgets Calendar'. Here we want to use the former, as it is the native Calendar gadget, developed by Google. Hover over the gadget and select the 'Add' button. The Google Calendar gadget will appear straight away in your sidebar. Close the gadget market window.

By default, the calendar is not set up to synchronize with your Google account. To do so, hover over the gadget and select the arrow in the menu that is pointing downwards. This is where you will make all the adjustments to the gadget.

Select 'Options' where you will be able to sign in with your Google account. Enter your credentials and select OK to make them permanent. Additionally you can select or unselect other options presented at this stage.

Your appointments are now visible in the Calendar view where you can hover over dates to see your events or expand the calendar to see agenda items per day.
Now that you have set up your Google Calendar account and Calendar gadget, you can continue to customize the sidebar to your liking. The gadgets all have a similar style of being added and general option configuration. You now have the chance to have a well-designed overview of all your Google online services and many more options as third party developers are keen to develop for the Desktop platform.
Google Desktop is an ingenious system that is lightweight, unobtrusive and easy to customize to your liking, making it a highly efficient plugin to streamlining your online services. Now go ahead, play around with gadgets, settings and overall esthetics, and find out the perfect setup that will work for you!
References