A Quick Guide to Good Google Alerts for Desktop Settings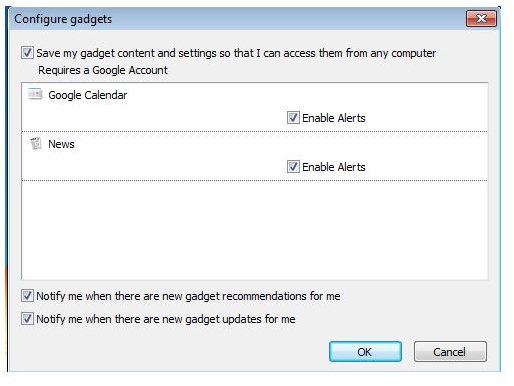 A Gadget Environment on Your PC
Google Desktop is the Windows desktop client that was originally intended as a link to Google's services. Its main and still most impressive feature is that it places an OS X Spotlight-like search engine right on your desktop that can index your hard drive. At the same time, it can serve as a quick search plugin for the Internet as well. Google Desktop does not have a full-featured 'suite' such as the Windows version does and instead is left with simply a universal search function. Although it does much what Spotlight can do, it also allows you search Google as it does with the Windows version, making it just that little bit more powerful.
Now that this desktop software has matured, its features have evolved into somewhat of an ecosystem, allowing third-party gadgets to be integrated as well. Another handy feature that we will be discussing here is the Google alerts for your desktop, which is an addition to the Google Desktop platform. Discover how you can benefit from this supplementary feature and what you can do to configure it.
Configuring Notifications
Google Alert for desktop is a beneficial feature, as it enables the desktop software to notify you when a certain gadget is updated or is attempting to spark your attention regarding a specific event. As there are gadgets for most kinds of Google services that integrate into the main software, you might consider them Google Desktop apps.
The curious thing, however, is that not all of these gadgets have alerts enabled. From the ones I tested, which included many of the usual Google apps, only the Calendar and News gadgets currently support Google Alert. You would hope and even expect that, for example, your desktop Gmail would support alerts but unfortunately, it does not. Nevertheless, some gadgets still do function with notifications, making the Google sidebar a bit more useful. What is even better is that you can configure these Google Alerts desktop apps individually. To achieve this, use the following steps:
On the top of the Google Desktop sidebar, click on the arrow pointing downwards.
Select Configure Gadgets, which is the second option from the top.
To enable or disable alerts you have to select or unselect the box next to that gadget. Notice that these alerts are switched off by default when a new and supported gadget is added, so you will need to enable them as you add them.
Unfortunately, this uniform manner of configuring alerts does not leave any space for gadget-specific notification alterations. In the individual configuration options of the various gadgets, you will not find any configuration options in that regard. Perhaps this would not be a bad idea in order to make the alter system a bit more versatile and customizable.
Further Configuration Options

Although the main features of Google Desktop Alerts are to turn the gadget on or off, there is more to explore. In the same panel where you just interacted with your alert options, you can choose to save the selected options to your Google account and then synchronize them with another computer. This way, your Google Alert settings travel with you wherever you go.
Although not directly alert-related but in the same panel, you can select whether or not to receive notifications when new gadget recommendations come in. You can also choose to be notified whenever your gadget is about to receive an update. This method is beneficial, since you will stay in control whereas the desktop software will select the best 'apps' for you.
Google Desktop for Windows puts Google apps right in your sidebar, preventing you from having to browse around for every update. Google Alerts will help you stay in touch with your appointments and regional news, although it will not keep you updated on your incoming emails. Nevertheless, the system has a large potential and has to mature just a little bit more to make it a true standout feature. At least you know now where to look to make sure the gadget has alert options and how to configure them.
Note. If you know any good Google Desktop gadgets that support alerts, do not hesitate to post them in the comment section!
References
Own experience of the writer
All screenshots by the writer