How to Sync Outlook with iGoogle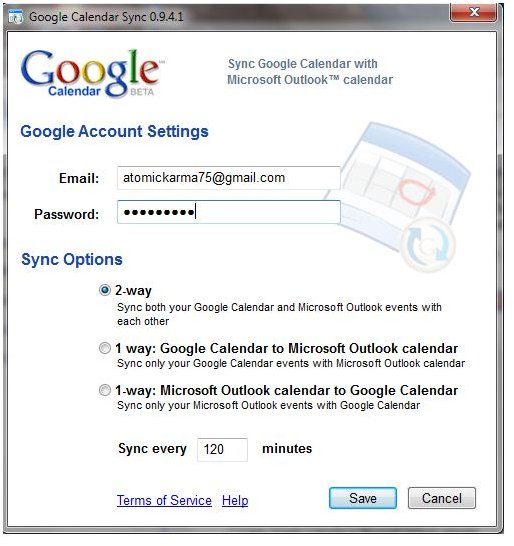 Minimize Your Open Apps
Running different applications for email and calendar such as Outlook and Google Calendar can be challenging, particularly if your organization doesn't use Microsoft Exchange. However, this solution could be quite cost effective and efficient to adopt, particularly if the company is keen for its employees to "hot-desk" for mobile or home work.
Wouldn't it be great if you could sync Outlook with iGoogle, have notifications displayed in your browser window whenever a calendar item is due and be able to check the calendar in an iGoogle widget?
You might be surprised to find that this is possible, despite the differences in the two systems, by taking advantage of a useful piece of free software from Google and using this to sync up a relationship between Outlook and iGoogle.
Sync Installation
In order to get started setting this up, you will need to download and install a useful utility available from www.google.com/support/calendar.
Google's calendar synchronization tool is compatible with Windows XP, Windows Vista, and Windows 7, and you will need to be using Microsoft Outlook 2003, 2007 or 2010. Note that Windows XP 64-bit Edition is not compatible.
The download is just over 1 MB so shouldn't take too long. Once completed, run the executable file, confirm any notices that appear and agree to the terms of service and follow the installation steps.
After the installation is complete, the Google Calendar Sync window should open. Enter your Google account name and email address and select whether you want a 2-way or 1-way relationship. The first will allow both calendars to sync with each other, whereas the second will allow you to set one of the calendars as having write preference over the other. You can also adjust the default sync duration if you feel this is too long or too short.
When you're happy with your choice, click Save.
Configuring Outlook to Work with GCS
You will need to check a couple of things on your computer in order to execute a successful sync.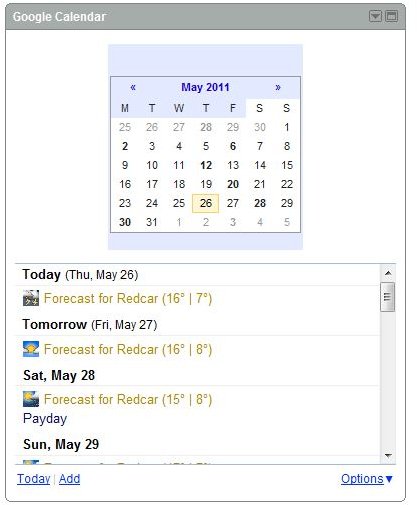 To begin, Outlook will automatically launch when you save your Google Calendar Sync settings, asking you to confirm the profile you are using, or sign in, depending on how you have the software setup.
Once this is done, head to the system tray and confirm that GCS is running. You should be able to see a small calendar icon, which you can right-click to open its Options or to force a Sync.
The next step is to open and sign in to your account at www.igoogle.com. On the iGoogle page, select Add gadgets in the top-right corner of the page, and then Add feed or gadget. A box will open, inviting you to add a URL for a feed, so paste the following:
https://www.google.com/ig/modules/calendar3.xml
Click Add to save this, and you should see a check and the word "Added" to confirm that this has been done.
Finally, click the « Back to iGoogle home link in the top left corner, where you should find your Google Calendar listed. You have successfully synced Outlook with iGoogle.
References
Add to your iGoogle page, https://www.google.com/support/calendar/bin/answer.py?hl=en&answer=44924
Image credit: screenshots by author.