How to Save YouTube Files to Your Computer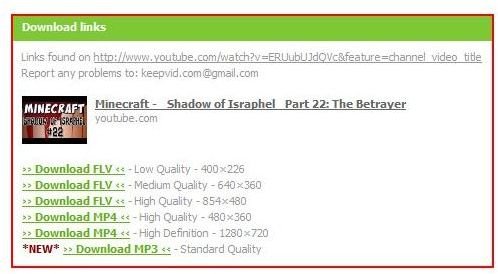 A Few Quick Notes
There are a few things to consider before you try to save a YouTube video to your desktop. First is the fact that YouTube does not offer any promises for these types of services. Their terms of service only allow for downloading movies which have an official download button on the site. If you're trying to download videos from their site, you're outside of their protection.
Also note that you can't get blood from a stone. In this case, your YouTube videos won't be of amazing quality. They were uploaded and currently stream in .FLV. This format is fairly low quality, and while YouTube now offers higher definition versions for most of their videos, you'll still be fairly limited in how big the video will be or how good it will look. You may be better off just adding the video to your favorites list, and then relying on the built-in high definition and full screen options to make it look good.
With that aside, there are many different YouTube downloaders. I could never compile a truly comprehensive list. This guide will just try to hit the high points and pick out the best of the bunch to save you the trouble. It is not the definitive list, and the web landscape is changing. If any of the sites listed go under, please note it in the comments.
The Definitive Web Service - KeepVid
As I said, it's not hard to find a good website that will let you download YouTube video. The only real challenge is finding one that won't have malware-filled ads. I found KeepVid to be the best option for that; you can find the site at https://keepvid.com/.
KeepVid.com is a fairly standard service. If you wish to download a YouTube video, then you can just copy the URL from the page. Then go to KeepVid.com and place that URL into their bar at the top. You'll then just have to give it a second, and allow them to run the Java application to pull the download together for you.
The reason that I'll recommend KeepVid is because of their unique option. A number of download services just give you the .FLV file, which is not particularly useful. These files don't look very good, and you usually need a separate player to view the files, or a way to convert them into a viewable format. It allows you to download the files in .MP4 format. This format will work fine with any new version of Windows Media Player or Quicktime. There's no conversion required, you can just play it as soon as you download it.
The download times are a little slow, and you'll need to put up with a few ads, but the site itself is fine- simple and convenient- if you're looking to download something off of Youtube.
Software Option - Orbit Downloader
While there are a number of add-ons available, the Orbit downloader appears to be the nicest option. You can get a safe copy here:
https://download.cnet.com/Orbit-Downloader/3000-2071_4-10600926.html.
It's a fairly standard downloader tool. You can install it, and then right click on media files, even flash games online, and download your own copy using the program.
It's really a bit of an unnecessary extra step for the casual user. It's main benefit seems to be that the program works well at downloading multiple files quickly. If you plan to grab a number of videos, then it will be easier to just use a tool like this, unless you really like copy and pasting URLs again and again.
As I said though, I believe that KeepVid will be fine for what the average user needs.
References
Sources:
KeepVid's Main Webstie - keepvid.com
Orbit Downloader - Download Link and Review - https://download.cnet.com/Orbit-Downloader/3000-2071_4-10600926.html
Screenshot of KeepVid interface provided by author