Copying Gmail Login Details: How to Copy Cookies From One Computer to Another To Login To Gmail?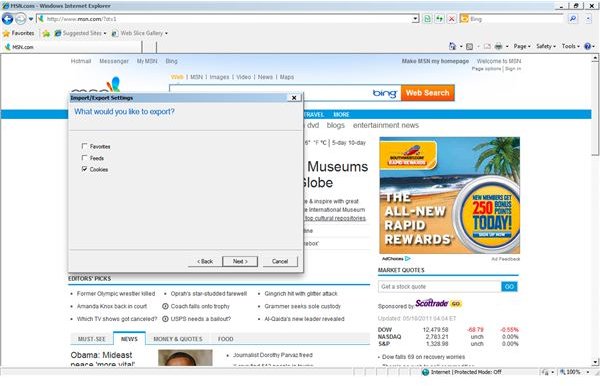 Using Cookies to Access Gmail Accounts
Whether you are switching computers or you want to freshly install an operating system, you often will want to seamlessly transfer your Gmail login details as well. This process is not necessarily a difficult one as login details are contained in the cookies of your browser. The big questions remains: How can I copy (individual) cookies from one computer to another to login to Gmail?
Copying Cookies Through Browsers
Gmail's cookies can be copied straight through your browser, using a variety of methods. Although some of these methods will not all let you select your specific Gmail cookie, it will help you make your move a bit easier. Here is how:
Internet Explorer
Internet Explorer is the only browser with built-in cookie import and export functionality. You have to be aware, however, that this feature is not picky and will copy all of your cookies at once. The necessary steps are as follows:
Open File and select the Import/Export feature.
Select Export to File and click Next.
Select 'Cookies' and click Next.
Select the location to save the file and select Export.
Chrome
Google Chrome has no built-in cookie exporter but the 'Cookie.txt Exporter' extension will get you there. It can export the specific cookies of the website you are browsing which will let you copy your Gmail login details from one Chrome browser to the other.
Firefox
Firefox can also not by default export cookies and will need the 'Expert Cookies' add-on to let you do so.
Opera
Opera has no way of exporting cookies.
Safari
Although no native cookie exporter exists for Safari the 'Safari Cookies utility' will get the job done. It integrates into the browser's settings menu and will let you export and import you Gmail login details.
Both Firefox and Safari will generate a generic .txt cookie file that need to be imported with an application called 'wget'. Although this might seem as a hassle at first, it is the only method of copying specific Gmail login cookies from one computer to another.
Copying Cookies Manually
If you want to transfer your Gmail login details manually you have no choice but to copy over the browsers cookies in their entirety. Every browser saves its cookies in a different location and under a different file format. Although this is the most effective and direct manner to transfer the cookies over, it is no use if you want to individually transfer over your Gmail login details to a new computer.
Although Internet Explorer is the only browser that has a native cookie exporting tool built-in it is both Google Chrome and Mozilla Firefox that can transfer over cookies for individual pages and thus just your Gmail login details. Once again, the power of add-ons and extensions helps fill gaps in those browsers, something others can definitely learn from.
References