Create a YouTube User Profile and Customize Your Page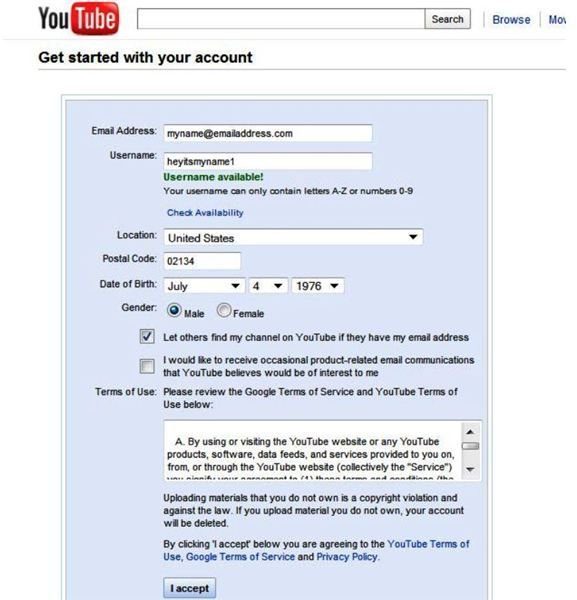 Creating an Account
Setting up a YouTube user profile is simple and straightforward. Go to the site's main page and click on the Create Account button to begin. Enter some basic information, including your email address, choice of a user name and so forth. Select the options you want to use, such as allowing friends to find your channel using your email address. Read the Terms of Service and, provided you agree to them, click the I Accept button.
If YouTube recognizes your email address, it will prompt you to sign into your existing Google account and thereby link your user profile with it. If you do not have one, you will need to create a new Google account.
When you have successfully completed these steps, you will receive a notification message stating, "You are now registered with YouTube!"
Note that if you linked your new YouTube profile to an existing Google account, whenever you want to log in to YouTube you will use your Google account information rather than your YouTube user name and password.
Customizing Your Channel

To get to your channel, go to https://www.youtube.com/YourUserName, where Your User Name is the one you selected when you signed up for a YouTube profile. You can also sign in and click on your user name to get to it.
Begin by clicking the Settings tab on the toolbar across the top of the page. Enter a title for your channel in the Title box. Select an option in the Channel Type drop down, such as YouTuber, Musician or Reporter. Choose whether you want to make the channel visible to others and enter tags that describe the type of videos you will be sharing. Click the Save Changes button to apply these settings.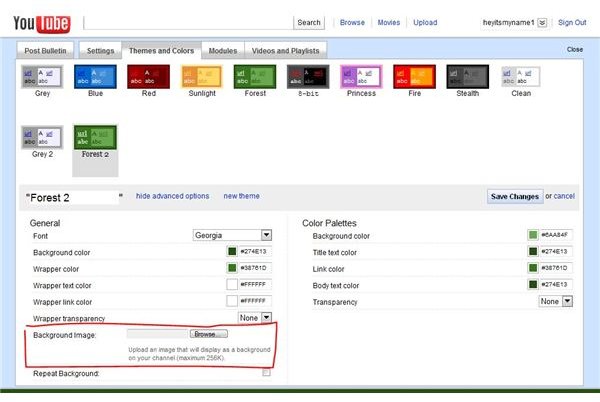 Next, move on to the Themes and Colors tab. Here you can select a color scheme to apply to your profile by simply clicking on it. You can also click the Advanced button to create a custom theme. This option allows you to really customize your profile. Not only can you select precisely which fonts and colors you want to use for each aspect of your page, but you can also upload a background image from your computer for a truly personal appearance. When you have made all of the changes you want in this section, click the Save Changes button and move on.
On the Modules tab, you can choose which of the available modules you want to appear on your page, such as Comments, Subscribers and Event Dates. The Videos and Playlists tab lets you manage the content you display.
Set Up Your Profile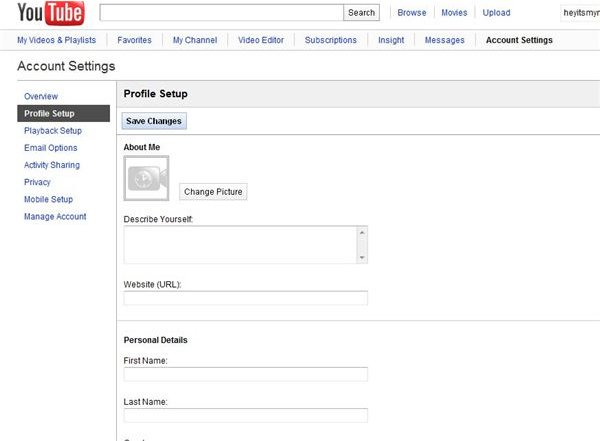 For more settings, click the Expand arrows to the right of your user name in the upper right corner of the page. Click on Account and then click Profile Setup. Click on Change Picture to upload a photo of yourself. You can also opt to use a video still. Note that images you upload may not appear immediately. Enter a description, your website address, and any personal details you wish to include.
Click the Save Changes button at the bottom of the page when you have completed the form.
When you have made all of the customizations you want, go back and check out your profile. It should now have your style and personality written all over it.
References and Resources
YouTube Help, https://www.google.com/support/youtube/
Screenshots provided by the writer