How to Discontinue Google Calendar Alerts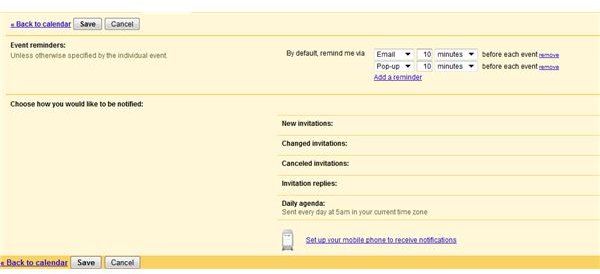 The Basics
I think that most people with a Gmail account will find that the calendar feature is quite useful. Even if you only have a few events, it's nice to get them all set up ahead of time in a simple format that's tied to a major account.
I'm going to assume that most of the people who have found this article are already past the basics. That said, if you are in need of any more basic tips for using Google Calendar, just check the attached link for a guide to setting up your own calendar with reminders.
Unfortunately, just about everyone who has set up a Google Calendar will probably realize that the notifications can get quite annoying. Logging on every morning to a daily agenda can seem like a great idea…for the first week or so. If you receive many invitations, you'll also quickly add up calendar events which will proceed to fill up your inbox every morning. You'll probably want to shut them down to keep your email inbox from falling apart.
Discontinue Your Alerts
If you want to discontinue your Google Calendar alerts, you will need to start by pulling up your Google Calendar. Just go into your account and click on the calendar tab to get onto the general screen for it. Your next step will be to look in the top right corner. You should see a tab labeled settings. Click on it, and then look for calendar settings in the menu. Click on this to pull up the settings page.
Once you're inside the settings page, you'll need to do a little bit more work. This first page for calendar settings just covers the general information. You can set up a few neat options here. Beyond the basics of setting up your calendar's format, you can also pick your default method for handling invitations (automatically accept, add but don't accept or don't add until you accept), or even set your usual work hours to warn people who send you invitations that you won't be able to honor.
While this is all well and good, the setting for turning off Google notifications is partially hidden away. Look in the top row for a few more tabs. Once again, you'll need to select the tab marked calendars. Pull this up to see the selection of all of your current calendars. Along the row for each calendar, you should see a highlighted link marked notifications. Click on this to bring up the full page for notifications for that calendar.
If you want to shut off all of the notifications, just uncheck all of the boxes. Otherwise, pick the ones that you want and then save the settings. Note that you'll need to do this for every calendar that you've set up, and it may actually take a day or so for the changes to actually take place. You should be free of the alerts soon though.
References
Author's own experience with Google Calendar
Image Credit - Screenshot of Google Calendar Notification Page