Email Address Search: Reverse Lookup Tools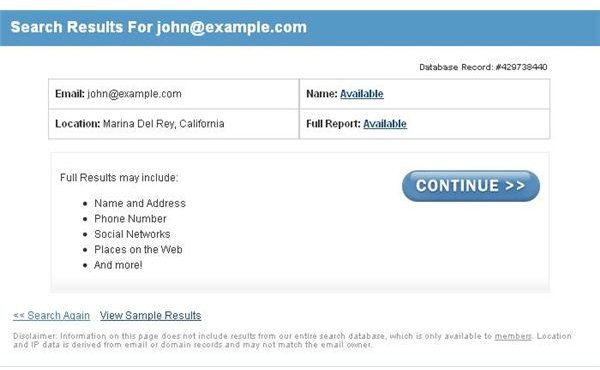 Who Sent That Email?
The Internet allows anyone to be anonymous whenever they want to. Sometimes this is a good thing, but sometimes it does have its drawbacks. For instance, maybe you're getting anonymous spam emails and you'd like to know where they're coming from, or maybe you want to network with someone who has emailed you, and you're looking for more information on that person, such as any social networking profiles they may have. Whether it's for either of these reasons or for any other reason, if you need to do an email address search reverse lookup to get someone's contact information using their email address, or even if you need the email address of someone whose name you already have (an old friend you wish you'd never lost touch with, perhaps), there are plenty of useful "people search" lookup tools online that can help you.
All lookup tools on the Web are technically free, but the only information you'll get for free is the ISP (Internet Service Provider) that provides the email address, which is irrelevant in most cases since so many people use email providers like Gmail, Yahoo, or Hotmail instead of the default email provided by their ISP, and depending on the service, you may get some minor information such as the username that person posts as online. If you want full contact information, you will have to pay for it, but if it's information you really need, it will probably be worth the price to you, especially since these services aren't all that expensive anyway.
Best Reverse Email Lookup Tools Online
Spokeo: Spokeo is definitely one of the most comprehensive people search engines on the Internet. It aggregates information from public sources all over the web to find as much information on people as is publicly available. There are various subscription tiers, depending on how much information you're looking to find, but for basic email searches, it can be as low as 2.95/month (for a 1 year subscription).
People smart: People Smart is also fairly comprehensive, though maybe not quite as much so as Spokeo. However, if email addresses are all you're interested in, it will serve just as well, and the cheapest membership option is priced identically, at 2.95/month for 1 year.
Email Finder: This is a unique people search website, because unlike most of the general or telephone number specific options available, this site only searches email addresses. Generally speaking, services that specialize in only doing one thing tend to do them pretty well, so if email information is all you're concerned with, this might be a good place to look, and because of its limited nature, it's also a little bit cheaper than the other options, at 1.95/month for its 1 year memberships.
Keep in mind that privacy is taken pretty seriously on the Internet, just like anywhere else, so these lookup tools are only providing information available from public sources. Private information is no more available here than it is anywhere else. Also, if you don't want people looking you up, all of these services will allow you to opt out of their results, but don't forget that even if your information doesn't appear on their site, it still exists in its original form, somewhere on the Web. Always be mindful when providing your information to any public source online, because if it's public, it's visible to anyone.
References
Source:
People Smart, https://www.peoplesmart.com/
Spokeo, https://www.spokeo.com/
Email Finder, https://www.emailfinder.com/
Image from Email Finder, https://www.emailfinder.com/