Bing Rewards vs. Swagbucks - Which Is the Best Search Incentive Program?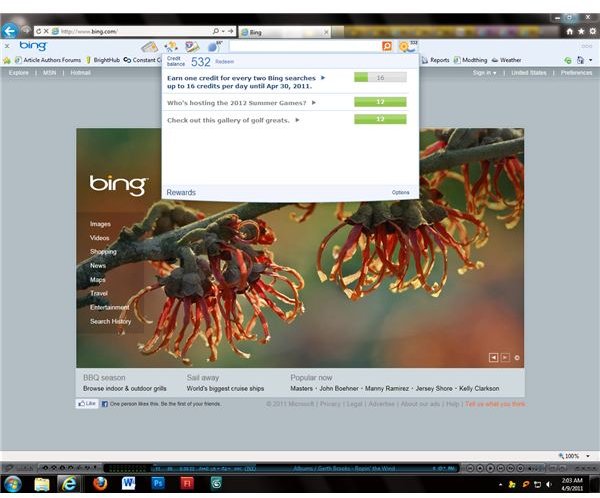 Bing Rewards vs. Swagbucks
When Swagbucks was introduced it enjoyed a period of being the most popular search incentive program on the Internet. With the introduction of the Bing Rewards program, however, Swagbucks encountered a major competitor in the form of Microsoft's Bing search engine. To choose the best incentive program in the battle of Bing Rewards vs. Swagbucks it's important to weigh the advantages and limitations of each program's features and decide which of these programs is best for you.
Bing Rewards
Bing Rewards awards credits based on searches performed with Microsoft's Bing search engine. The user interface for the program is the Bing Rewards toolbar, an unobtrusive addon for Internet Explorer that gives access not only to a Bing search window and your credit balance but also plugins such as news headlines, translation and weather alerts. Performing two searches with Bing provides you with one credit, and special searches are posted to the toolbar's notification area every few days which provide you with bonus credits. The search incentive program requires a Windows Live ID which many Internet users have from services such as Hotmail, Windows Live Messenger or Games for Windows LIVE.
The downsides of the Bing Rewards program include its exclusivity to Internet Explorer and the Bing search engine. Some users complain that credits are earned too slowly, and bugs in the system occasionally cause bonus credits to not be awarded properly. Point values for some redemption items are slightly higher than the values for similar products at SwagBucks as well.
Swagbucks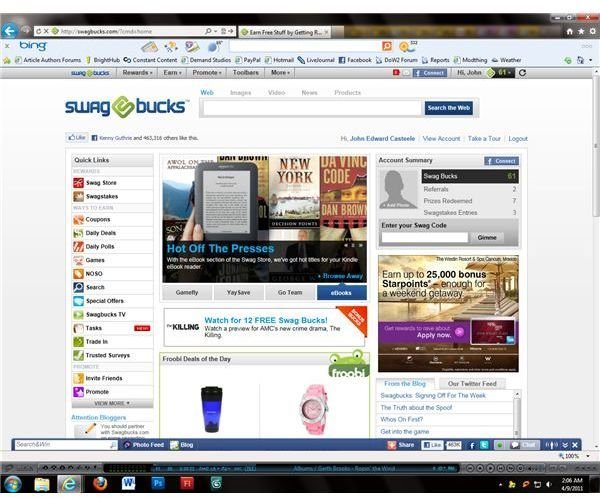 Swagbucks awards credits known as "SwagBucks" for completing searches using the Swagbucks search engine as well as completing surveys, playing games and taking part in other activities on the Swagbucks website. Point values vary from 1 SwagBuck to 15 or more, with special promotions sometimes doubling the values of awarded SwagBucks or providing codes for free SwagBucks. The Swagbucks search engine itself is based off of Google search, with sponsored advertiser results mixed in with the standard Google search results. Swagbucks users can sign in with a Swagbucks account or through social network options such as Facebook Connect.
The downsides of the Swagbucks search incentive program include the fact that SwagBucks are awarded randomly and in random amounts, with no guarantee that the user will earn any while searching. Captchas are sometimes required to prove that the user isn't a search bot trying to earn extra points, and performing searches strictly to try and earn SwagBucks is a violation of the website's terms of service. The number of sponsored results is an annoyance for some searchers, since these advertisers mixed in among the search results can push legitimate results back to later pages.
Choosing an Incentive Program
When weighing the options of Bing Rewards vs. Swagbucks to find the best search incentive program for your needs, stop to consider what you want from an incentive program. If you want a program that is easy to use and doesn't require you to sift through advertisers to find the search results you're looking for, consider installing the Bing Rewards toolbar. If you want a program that doesn't rely on a specific browser and that has alternative methods of earning points, consider signing up for Swagbucks. Both are free to use and provide a wide range of incentive products that can be earned simply by using the service, so don't be afraid to try both programs out to see which one you prefer.
Image Credit: Screenshots by J. Edward Casteele
References:
Swagbucks - https://www.swagbucks.com
Bing Rewards - https://www.bing.com/rewards