Uncover the Power of Current Web Searches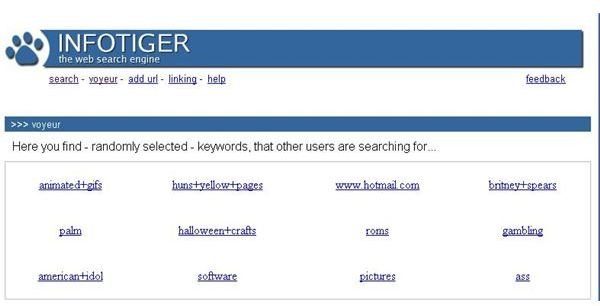 Finding Current Web Searches
There was a time when search engines let people watch current searches as they happen in real time. Unfortunately, this type of search voyeur or search spy site is almost extinct.
Although ascertaining the official reason these pages have vanished on the web, probably one of three explanations will suffice: (1) the real time search information proved to be valuable, so search engines like Google stooped the pages so that they could monetize the results; (2) the real time search information was being abused as commercial interests wrote scripts and search bots that would spam the search engine with their keywords; and (3) the search voyeur pages operated by search engines were not popular enough to warrant continued development.
If you are interested in seeing some real time search results on the web, you still have a few options, but they may not be very satisfying.
InfoTiger has a search voyeur section which shows a selection of current search keywords at any given time. Unfortunately, the results are keyed to searches performed on the InfoTiger search engine which has only a minuscule of internet search traffic. Still, it does return current web searches and may be of value to some people.
Meta search engine DogPile has a "search spy" page that is supposed to display search terms in real time, but it does not seem to be working right now. Plug-ins that work with NetVibes and Google Home Page are available.
Google Realtime Search offers up to the second post from social media outlets, however it is responsive to search terms only. In other words, users can see the latest happenings on line, but only those results that are relevant to a user search. Google Realtime search does not allow visitors to watch unfiltered results as they enter the system.
Finding Poplar Web Searches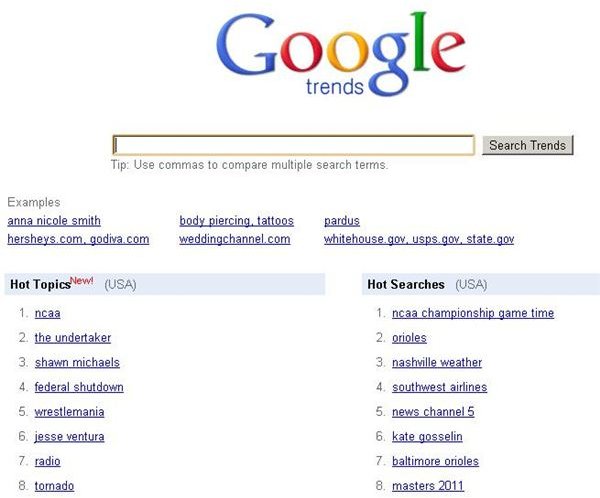 Google allows people to look at popular web searches at its Google Trends website. At this site, users can see what topics people are searching for and see whether the trends for those searches are increasing or decreasing over time. Another section of Google Trends shows hot searches, meaning actual search terms (rather than topics) that people are entering into the Google search engine.
Another Google service, Insights for Search, is a beta program under development that allows users to search for keyword trends over a certain period of time. The shortest search at Google Insights is 7 days, so it's not exactly real time, but it does offer tremendous help for people looking for popular web searches.
AOL Search posts hot topics searched for at that search engine, but the feature that showed search terms updated every 12 seconds appears to be no longer operational.
Conclusion
A lot can be gained from search spy pages that show current web searches, but now that the major search engines no longer offer them, the surviving pages are basically worthless because they represent an almost unmeasurable portion of online searches.
Popular web searches also represent important information that can help webmasters, writers and publishers steer their content to match their audiences. Google dominates the web, and while showing trends in searches has the market practically cornered with its Google Trends and Insights platforms.
References
Google. "Google Trends", https://www.google.com/trends
"InfoTiger Search Voyeur", https://www.infotiger.com/voyeur.html?filter=no
"AOL Search Hot Searches", https://hot.aol.com/
"Dogpile Search Spy", https://www.dogpile.com/dpwidget/netvibes.htm?_iceurl=true
"Google Realtime Search",https://www.google.com/realtime
Screenshots provided by writer