We Answer: How Do I Delete Dogpile Web Search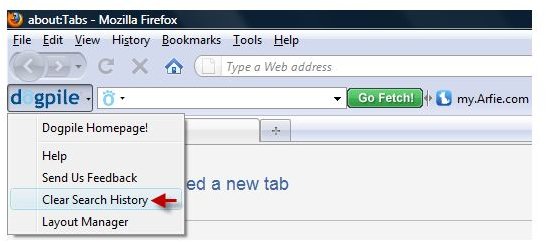 Dogpile and Search History
One of the available metasearch engine services is provided by InfoSpace. The search engine is called Dogpile and provides search results from Google, Yahoo, Bing and Ask. Like any other search engine in a browser or the Internet, search queries and results are recorded by the Dogpile search engine.
Dogpile tracks and displays the 15 most recent searches by default. Turning this option off does not mean that your search history is no longer tracked or recorded. Below you find the instructions on how to delete Dogpile web searches so your search actions are no longer stored. It will also prevent other people from viewing your search queries. Make sure to check the article on how to remove Dogpile web search toolbar, if you did not install it yourself.
Dogpile Recent Searches and Search History
Options to customize your default Dogpile search settings are available in the https://dogpile.com/dogpile/ws/preferences/ page. You can change any of these settings whether you use the Dogpile toolbar or only the web-based search service. From the preferences page, you can disable Dogpile's ability to track and display the 15 most recent searches, but there's no option to delete or clear the search queries you've entered. To delete the search history, use any the following methods:
Using Dogpile Toolbar in Internet Explorer or Firefox:
If you are using Dogpile toolbar, simply click the drop-down arrow on the Dogpile logo and click "Clear Search History"
To permanently delete the search history and prevent Dogpile from tracking your search queries, put a check in the box before "Enable Search History" in Dogpile settings. Click again the drop-down arrow from Dogpile logo and click "Layout Manager". Proceed by clicking "Settings":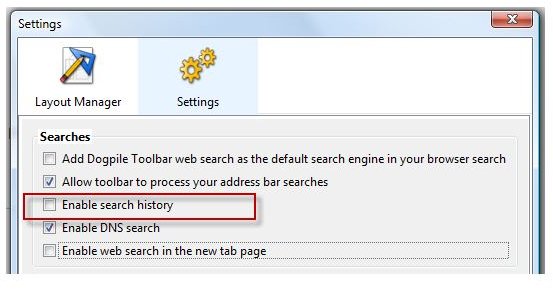 Do the same in Dogpile toolbar settings for Internet Explorer: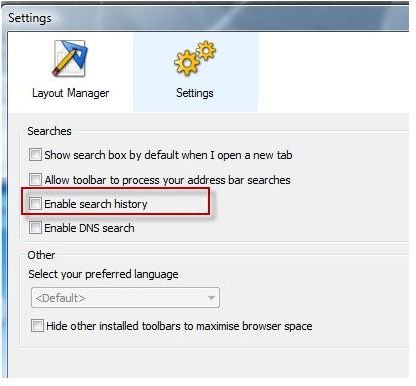 Using CCleaner or the built-in privacy cleaner in browsers:
By using the CCleaner program, you can clear not only temporary Internet files, cache and Internet cookies but also search queries and results. Also, most browsers have the option of clearing the browsing history as well as the search history.
Other Ways to remove Dogpile Web Searches
You might want to uninstall Dogpile web search toolbar because you don't need the toolbar to enjoy metasearch engine services by InfoSpace. Simply visit the dogpile.com website or use the search bar in your browser by adding different search engine providers.
Toolbars are OK to use if they are clean or malware-free, but if a toolbar is detected as adware or spyware, you are better off not using it. EmsiSoft Anti-Malware and Spybot-Search and Destroy will detect the Dogpile toolbar as adware or spyware, respectively, while PrevX anti-malware identifies the Dogpile setup file as "cloaked malware".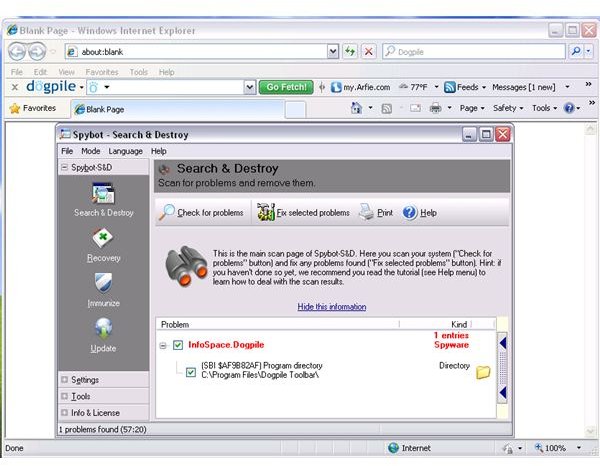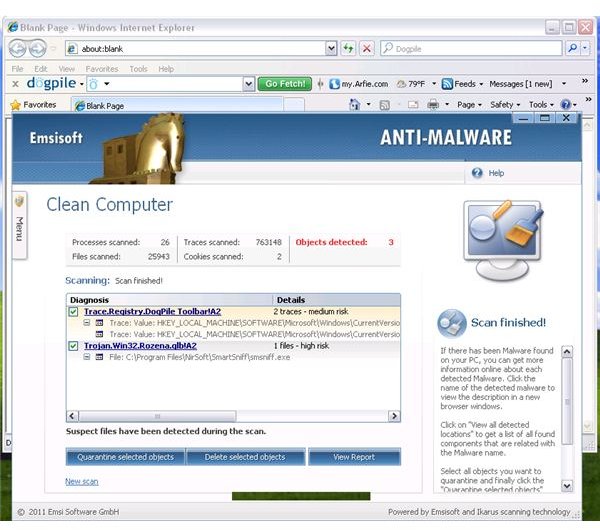 Ad-Aware, Windows Defender and Malwarebytes' Anti-Malware found no risk on the computer with Dogpile installed. This is another reason for scanning the computer using different on-demand scanners so your private information is not collected, not even by legitimate programs.
References
Screenshots taken by the author.
Product tested: Dogpile toolbar v1.594