Discover the Best Search Engines Besides Google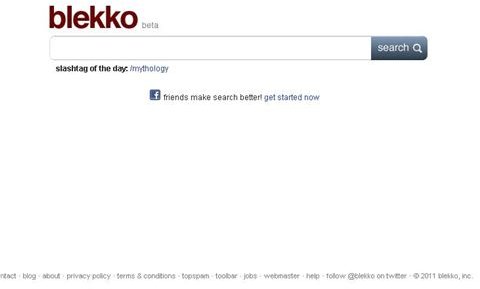 Google Top among Search Engines
Recent search engine statistics referenced by eWeek show that almost two thirds of all Internet searches are handled by Google. While this says something about Google's popularity, recent changes to the algorithms underlying Google reminded us that Google, to a large extent, determines what users see and don't see.
Additionally, recent news of Google's special tax breaks, commercial interests, campaign contributions, and associations with government figures may lead some to believe that Google search results may at times be skewed to facilitate their own interests. Therefore Internet users who are willing to leave the comfort of Google may benefit from their expanded search.
Here we list some of the best search engines besides Google and try to explain why they might be good places to search either before or after you search Google.
Blekko
Perhaps one of the most innovative search engine startups in recent times, Blekko has huge ambitions to be a major competitor for internet
searches and has set it sights on one of the biggest weaknesses of Google- spam. By giving users complete control over the sites they see while logged onto Blekko, the user experience is customized. No longer do you have to see the same sites turn up over and over ago in your search results.
Spam is just the beginning of Blekko's success. A unique innovation called "slash tags" allows users to take complete control over the content of search engine results and the way in which they are displayed. Best of all, defined slash tags can be saved and shared among Blekko users, offering one of the most flexible search facilities currently available on the web.
Bing
Microsoft is another huge tech company that has been in the search business for years. Its most recent incarnation, Bing, is intended to be a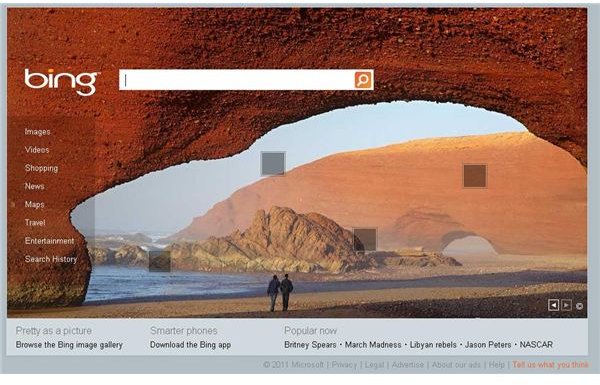 viable alternative to Google, not just another imitation. Stefan Weitz, the director of Bing, explained the search engine's layered approach to presenting search results to users in a recent interview with eWeek. He explained that Bing is not necessarily out to topple Google in the short term, but hopes to exploit its distinct differences to provide better results for its users.
In its top layer, Bing leverages trends in social networking to integrate results from Facebook, Twitter, and other sites into the results it shows. It even goes so far as to show sites that Facebook friends like, hoping to capitalize on the fact that people who know each other often share similar interests.
The "geospatial" aspect of the Web that Bing hopes to exploit integrates information about places from multiple sources to give users in-depth perspectives on the different types of places they are looking for.
Finally, Bing sees services as another layer, helping users find the best sources for tickets, entertainment and other services people need on a regular basis. It is at this layer that Weitz hopes to change the nature of the web from "nouns" to "verbs."
Yahoo!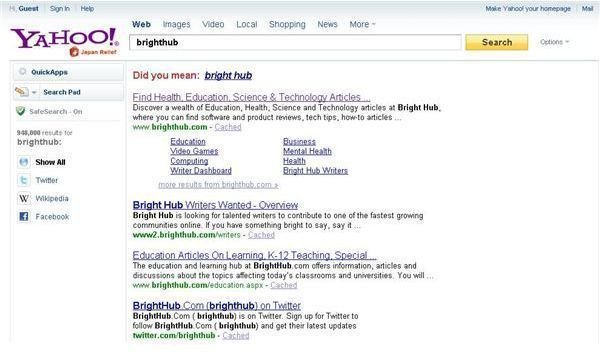 Yahoo, once a name synonymous with Web searches, now claims just 16% of internet searches, although the results tendered by Yahoo may not be much different from those found on Bing. After all, a deal inked not too long ago now has Bing powering searches on Yahoo. Although at first it might seem that Yahoo and Bing will offer identical results, there are indications that many of Yahoo's factors that determine search results remain intact, offering up data powered by Bing in a different perspective.
A new feature Yahoo recently added called Yahoo Search Direct provides instant search results as a search is typed in. This functionality is similar to Google Instant Search that should make Yahoo easier and better to use than ever before.
Wolfram Alpha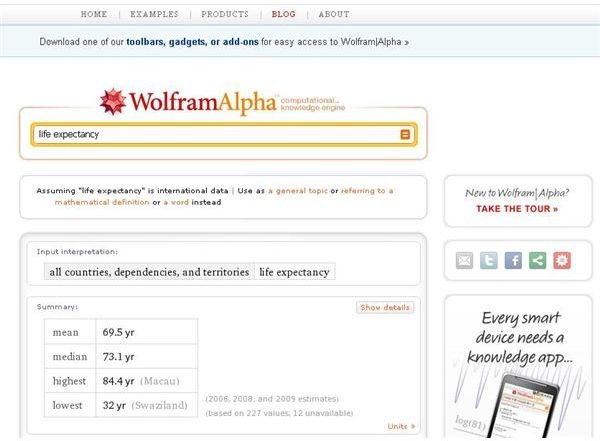 Perhaps in a class by itself, Wolfram Alpha is one of the best search engines besides Google when it comes to getting answers fast. Billed as a "computational knowledge engine," Wolfram Alpha is unique for the results it provides and for the way it works. Users type in their questions into a search box and Wolfram Alpha tries to answer them.
For example, typing in "life expectancy" into Wolfram Alpha will give life expectancy facts and figures for the world. There's not much spam in Wolfram Alpha, only answers that promise to inform and inspire its users. The best way to understand the power of Wolfram Alpha is to experience it, so give it a try today.
Duck Duck Go
The last site featured in this search engine showdown of Google alternatives is another search engine startup, Duck Duck Go. This search engine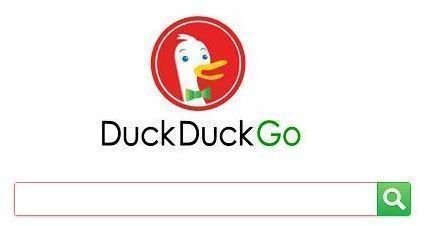 offers an austere user interface that allows users to get answers fast. It boasts spam and advertisement sites, offers custom syntax options and pledges not to track user activities on the site, addressing some of the major concerns search engine users frequently have while using Google.
Special hard-coded "Goodies" offer quick and easy access to conversion tools, dates, facts, geography, and other information people commonly look for online.
Duck Duck Go is less than two years old and has already doubled its search traffic, according to a recent article at the Technically Philly website. based in Pennsylvania, the spam-free, user centric operating philosophy of Duck Duck Go has brought it a lot of media attention, and its funding of open source software initiatives seems likely to make the Internet a better place.
References
Bing Taking Advantage of Web's Evolution: Microsoft Exec
Bing Powers Yahoo Organic Results…Does It Matter?
An overview on using Blekko, an alternative search engine designed to avoid spam search results
Yahoo Search Direct produces instant results, site previews, as a user types
Making the World's Knowledge Computable
Duck Duck Go doubles traffic and helps the open source community